Many law faculties have a student-run, peer-reviewed law journal – McGill has the rare distinction of having three. All three help to expose student editors to a host of legal issues, all three have met major milestones in the past year, and all three have brand new issues out this month. Here's a guide.
The McGill Law Journal
More than five decades after the Faculty of Law's first law journal was founded in 1952, the McGill Law Journal remains an important forum for the discussion of contemporary legal issues in public law, private law, and international law. Published in both French and English, the Journal has been frequently cited by the Supreme Court of Canada, and today subscribers to the Journal reside in more than 40 countries across six continents.
New web site & free back-issues
The Journal's new web site will be launched later this summer. Spearheaded by Volume 53 Editor-in-Chief Benjamin Moss and Electronics Editor Ilya Kirtsman, the new site will be sleeker, professional and easier to navigate, according to Volume 54 Editor Erin Morgan. Back issues will be available on the site in PDF format, free-of-charge, as part of the Journal's open-access policy adopted last year. "We want to become more accessible to our readers," Morgan says. "It seems like more people are relying on online sources for their research and we thought that it made more sense to respond to this change sooner, rather than later."
John Ralston Saul delivers Journal's annual lecture
More than 300 people crammed into the Maxwell-Cohen Moot Court to hear John Ralston Saul deliver the Journal's annual lecture. Erin Morgan, the Editor-in-Chief for Volume 54, credits the Canadian literary icon for his broad appeal: "We had a lot of guests from outside the Faculty and a lot of great feedback," she says.
New issue for spring 2009: Volume 53, No. 4
To subscribe to the McGill Law Journal, visit their web site at lawjournal.mcgill.ca.
McGill International Journal of Sustainable Development Law & Policy (JSDLP)
From conservation law, to water governance, to the trade of genetic organisms – the JSDLP aims to provide a forum for critical analysis on some of society's most pressing law and policy issues related to sustainable development. Since its first issue in 2005, the JSDLP has welcomed contributions from academics, policy makers, NGO representatives, and practitioners – including the Honourable Justice Charles Gonthier, and a host of McGill law professors, to name just a few.
Progress on three language fronts
This year, the JSDLP targeted francophone universities and think tanks, and the results were overwhelmingly positive: "We had a 400 per cent increase in French submissions," says Nicholas Richards-Bentley, Editor-in-Chief of Volume Five. Through "energized" efforts, the JSDLP also managed to boost its English-language submissions by 65 per cent. In addition, the Journal welcomed its first Spanish submission this year – a nod to the Faculty's Spanish Language Initiative, which is working to integrate the third major language of the Americas into the mix. The JSDLP also bolstered its subscriptions by contacting every American law school library – and, according to Richards-Bentley, new subscriptions have already begun to trickle in.
Academic credit extended to senior members
After five years of the Journal's existence, academic credit will be extended to senior Journal members beginning next year. "This will put us on a level footing with the McGill Law Journal and allow our student members to devote the additional time necessary to expand our content," says Richards-Bentley.
New issue for spring 2009: Volume 4, No. 2
To subscribe to the McGill International Journal of Sustainable Development Law & Policy, please contact jsdlp.law@mcgill.ca or visit their web site at jsdlp.mcgill.ca.
McGill Journal of Law & Health (MJLH)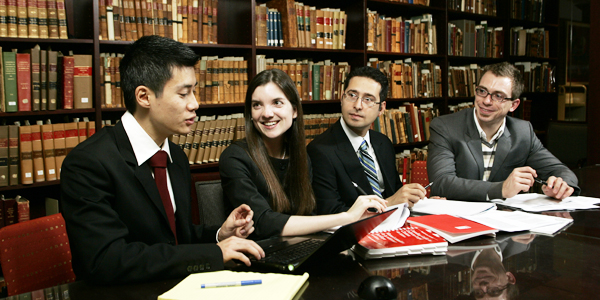 It's official – this year the MJLH made the jump from start-up publication to fully-fledged journal. "We're here for the long term," says Dorian Needham, Co-Executive-Editor of Volume 2. With an aim to inform public debate surrounding health, public policy and ethics, the MJLH consists of both a bilingual peer-reviewed anthology and an online database of recent health-law developments. The MJLH has received support from the University's Alma Mater Fund and the Fasken Martineau Fund for the Journal of Law and Health, as part of the first major law firm gift to Campaign McGill. Beginning in September, the Faculty will also extend academic credit to the MJLH's executive members and web editors.
Articles are just a click away, thanks to open access policy
"Scholarship should be available free of charge to anyone who is interested in it," explains Needham of the rationale behind the journal's open source policy. As a result of a new bilingual constitution committing them to the open-access movement, all MJLH issues (including the most recent) are available free-of-charge on their web site. In a similar vein, the MJLH also issued their first open call for submissions, in addition to using a targeted solicitations strategy.
Reaching out to Medicine, Management, Psychology and more
Earlier this year, the MJLH partnered with the McGill Journal of Medicine to host a day-long Student Colloquium on Health and Law, which featured such high-profile guests such as Dr. Philippe Couillard, the Faculty's new Senior Fellow in Health Law and the former Quebec Minister of Health and Social Services. The event was a huge success, and in the coming year the MJLH plans to reach out to other faculties: "Health law sits at the nexus of many disciplines, including medicine, psychology, management, epidemiology, ethics, policymaking and many more," says Needham. The MJLH also added three medical students to their editorial team, and welcomed the Honourable Senator David W. Angus and the Honourable Allan R. Hilton of the Quebec Court of Appeal to their advisory board.
New issue for spring 2009: Volume 3
To read the McGill Journal of Law & Health online, please visit mjlh.mcgill.ca, or contact manager.mjlh@mail.mcgill.ca for a printed copy or information.