Reflecting on the DCL experience, professors and doctoral students venture into allusion, metaphor and a bit of stand up comedy as well
The annual DCL Retreat (now in its sixth year) took place this October in the wood-paneled, softly lit ballroom of Thomson House, a setting that lent itself to the consideration of big questions, biggest among them perhaps the day's program theme: "Theorizing the DCL: Thinking What We are Doing."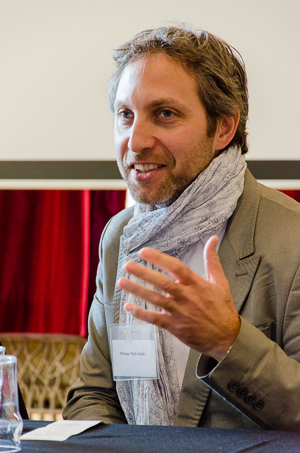 Professor Paul Antaki pointing out that "the dissertation helps one learn to be okay with being alone."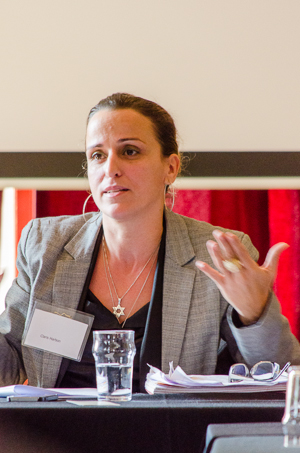 Doctoral student Claris Harbon talked about her experience as an international student.
A reference to Hannah Arendt's objective as stated in The Human Condition to "think what we are doing," the theme covered various areas of the doctoral experience, including "Thinking doctoral studies" and "Thinking the dissertation." (Other areas included "Thinking life (or Everything but the Dissertation)" and "Thinking law").
The formal program was, in other words, replete with clever double entendre, and set the stage for a series of conversations themselves replete with moments of humour and insight.
Newly appointed professor and former McGill student Sébastien Jodoin (left on top photo) emphasized the value of collaboration in doctoral work. "The social sciences have a practice of co-publication," he noted, "making it useful to work together to answer complicated questions. Law is still seen as a lone wolf kind of approach to research… but more collaboration between professors and DCL students would generate knowledge and ways to share that knowledge with plural audiences outside the Faculty."
English professor and director of the Institute for the Public Life of Arts and Ideas Paul Yachnin also joined the panel and warned participants against over-emphasizing the difference between discussions that occur inside versus outside the university. "The ideal is that the university is a place that creates travelers instead of dwellers," he said.
Professor Mark Antaki also dismantled another conventional view, offering a different take on dissertation expectations.
"We are only original by accident and probably most of us won't make a truly original contribution to the field," he said, to laughter.
"That's depressing," said fellow panelist and DCL student Claris Harbon, to which Antaki replied with a smile, "It's liberating."
"A dissertation is not something you are proving to others as X or Y," he continued. "You are following a question as far as you can, and often following up on that really basic, obvious thing that everyone takes for granted, the question the first year law student is asking and the professor probably doesn't have time to pursue."
In addition to participating in the panel on "Thinking the dissertation," Harbon also contributed anecdotes from her experience as an international student. "The PhD process, or the experience of international students in the process, can be really harsh and alienating," she said. "But McGill is the first law school to give me a home and where I felt included."
Antaki's closing remarks on the dissertation panel brought together different threads of the morning's conversation. Simultaneously demonstrating how to bridge conversations inside and outside the university and addressing Harbon's remark that doctoral studies can be an alienating experience, he invoked none other than Louis C.K. to bring perspective to the process.
Referring to the skit in which the comedian casts a skeptical eye at smartphones because they interfere with our ability to be still, Antaki encouraged students to embrace the discomfort.
"Like Louis C.K. says, everyone is afraid to be alone," he observed. "But the dissertation helps one learn to be okay with being alone."