Focus online s'entretient avec Fred Headon (BCL'96, LLB'96) alors qu'il vient de prendre la barre de l'Association du Barreau canadien
By Bridget Wayland; photos and translation by Lysanne Larose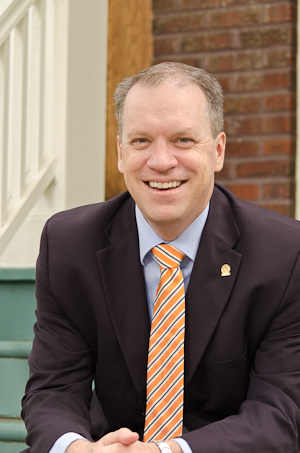 L'année qui commence s'annonce fort remplie pour Fred Headon (BCL'96, LLB'96)! En août 2013, il a été nommé président de l'Association du Barreau canadien (ABC), et la revue Canadian Lawyer l'a primé parmi ses « 5 conseillers juridiques les plus influents » pour mon travail auprès de l'ABC, ainsi que pour son travail de conseiller juridique principal pour le compte d'Air Canada.
Fred Headon est une présence familière à la Faculté, qu'il participe aux soirées Coffeehouse des diplômés (voir notre album des Retrouvailles de 2012), ou qu'il assiste à une réunion du Comité consultatif, dont il est membre depuis plus d'une décennie.
Cette fois-ci, nous sommes allés à sa rencontre : au début de septembre, Focus online est passé voir Fred Headon à son bureau chez Air Canada, à Dorval, pour parler de ses projets pour l'ABC, de son implication à la Faculté de droit et de ses idées sur l'avenir de la profession juridique au Canada.
Turbulent Times at the Faculty
Fred Headon grew up in Manitoba, obtaining his Bachelor's degree in Economics from the University of Winnipeg in 1992. "It was the National Program that drew me to McGill," he says. "McGill was already different from everybody else. It was the only place where you could do both at the same time."
In the midst of his studies, Headon found himself intimately involved with the development of the new, transsystemic law program at McGill. "It was an intense, emotional time," he recalls. "A number of us joined the student committees and had some input into what the new program should look like. It was something that engaged the whole student body. People really cared."
At the same time, the Faculty was underdoing major physical changes with its plans to build the Gelber library, while the province itself was in the throes of political instability as well. "I was there during the 1995 Referendum," he says, "so there was a big debate going on externally as well. Exciting times!"
Headon served as the Speaker to the Law Students Association (LSA) Council and as Chief Returning Officer for LSA elections. But his favourite activity, by far, was Coffeehouse. "It was in held in the Common Room back then, which had a very different feel from the Atrium," he says. "What was great was that the professors would often drop by—I remember Ron Sklar, Rod Macdonald and Blaine Baker being there quite frequently. It was the chance to chat with your profs outside of class about everything else that was going on around you—which was really helpful for understanding how you fit into the larger legal landscape."

Looking back, though Headon clearly enjoyed his years at McGill, one thing remains clear: "It was tough!" he says. "It was a lot more work than I expected going in. But it was great fun. The profs were great, as were the students—those were 150 of the most interesting people I've ever met. And they continued to be so long after we left McGill."
Les multiples facettes du droit du travail
Fred Headon se souvient que déjà, durant ses études, il aimait les cours qui se rapportent à sa pratique d'aujourd'hui. « J'ai toujours eu un intérêt pour le droit du travail et c'est ce que je fais aujourd'hui, dit-il. J'aimais la plaidoirie et on en fait souvent en droit du travail—on se retrouve fréquemment devant les tribunaux. Je savais aussi qu'il fallait être un excellent conseiller juridique, puisqu'on est aussi appelé à rédiger des contrats et des conventions. Dans mon domaine, on fait les deux, tous les jours. Donc, je suis heureux. »
Fred Headon a pratiqué le droit du travail au sein du groupe du droit du travail et de l'emploi chez McCarthy Tétrault de 1999 à 2006. Toutefois, pratiquer chez Air Canada est une autre paire de manches. « Dans mon domaine, accéder à ce poste, c'est comme être repêché par la LNH! », plaisante-t-il. « Les questions auxquelles nous sommes confrontés ici, le travail que je fais et les problèmes que je suis appelé à résoudre : quels beaux défis! »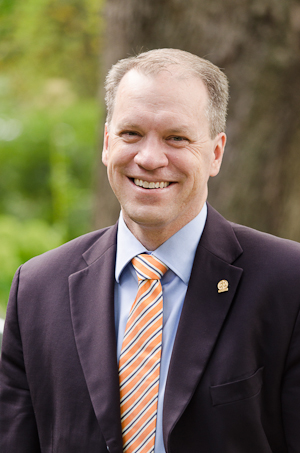 Parmi ses responsabilités chez Air Canada, il conseille l'entreprise sur des questions touchant aux conventions collectives et aux contrats de travail, incluant lors des négociations salariales de 2006. Il a également été conseiller principal lors des négociations collectives de 2009 et de 2011-12.
« J'avais l'habitude de dire que j'aime le droit du travail pour sa dimension très humaine, ajoute-t-il, ce qui en fait comprend un aspect très pratique—ça met en cause le travail des gens et tout ce que cela signifie pour eux. Avec un peu de recul, je dois dire aussi que c'est un environnement exigeant pour apprendre la stratégie et la négociation. »
Ses idées pour l'ABC
Fred Headon a mis sur pied un ambitieux programme pour son mandat à la présidence. « L'ABC s'est positionnée comme l'alliée essentielle de la profession, dit-il. Nous devons nous assurer que nous remplissons nos promesses ainsi que les attentes de nos membres. Nous travaillons également à soutenir l'état de droit et le système juridique. Et notre travail a besoin d'être visible. »
Améliorer l'accès à la justice, dresser un plan d'action pour assurer l'avenir de la profession, accroître la diversité de l'ABC et recruter davantage de membres, voilà les objectifs que vise Fred Headon. (Voir le vidéo dans la revue National du CBA).
Voilà pourquoi il part en tournée. Au cours des prochains mois, Fred Headon va sillonner le pays et rencontrer des représentants de plusieurs divisions de l'ABC, de barreaux et de paliers de gouvernement entre St. John's et Whitehorse, sans parler des consultations sur l'avenir de la profession qu'il fera, ainsi que des détours à New York et un peu partout en Europe.
Il veut aussi visiter les facultés de droit canadiennes en sa qualité de président de l'ABC. « C'est une des choses que j'aimerais recommencer à faire, dit-il. Ces visites sont l'occasion de faire connaître l'ABC et, j'espère, de nous faire apprécier de la prochaine génération d'avocats. Ces futurs avocats voudront peut-être se trouver une place au sein de notre organisation et de contribuer à son avenir. »
The Future of the Legal Profession
The way Headon sees it, the future for the practice is very bright. "There will be no shortage of great legal work," he says. "What I think is going to change dramatically is how legal services are actually delivered."
"Something we've heard loud and clear in the CBA's Legal Futures Initiative research," he says, "is that lawyers need to get better at process. We're going to need to cooperate with other professionals—not just paralegals, but others as well—who can move a file along in a more cost-effective, efficient manner, much like a dentist does."
What's more, he says, "there are other professionals out there who are delivering what I call 'near-legal' services. They might not be infringing on the Bar Act, but they are doing things that are really close to what lawyers do, or might be able to do, if we took a different approach to how we deliver our services. There are certainly lessons we can learn from them."
Another thing the Canadian Bar Association (CBA) has heard from Canadians is that clients want to be more involved in their legal matters. According to Headon, it's no longer going to be acceptable to ask a client to leave everything with their lawyer and just show up in court six months from now, not privy to anything that happens in between. "They actually want to be involved in the process," he says, "something that will be disruptive for many lawyers."
"Clients now want to be in charge of their own information, and they want to deal with issues very quickly—I don't know if we're going to get to dealing with it all on Twitter," he jokes, "but clients want very short, comprehensible snippets that they can engage with. A ten-page memo full of footnotes and headings is only going to make them feel excluded, while the expectation now is: 'we are going to participate!'"
This is not something lawyers are used to, Headon admits, but it's exactly what's going to start to distinguish lawyers in the marketplace. Clients, he predicts, will look for lawyers whose process appeals to them, and which leads to the most predictable outcome as well as the most predictable pricing. "Nobody taught you this in law school," he says, "but it's very much the expectation of the client. And this is leading us to a very different future."
If you'd like to weigh in on the future of the legal profession in Canada, Headon is keen on hearing your views as part of the CBA's ongoing consultation. "I would encourage lawyers from across the country to take a look at the questions and discussions on the CBA website—and ask their clients to respond, too," he says.
Climb the Hill!

Quand on lui demande ce qu'il aimerait dire aux diplômés, Fred Headon n'hésite pas : « Gardez le contact avec la Faculté. La quantité d'activités, de nouveaux programmes, de cycles de conférences qui s'y tiennent vous coupera le souffle. Il y aura sûrement un moment où ils pourront être utiles à votre pratique ou dans votre recrutement. »

« C'est aussi, d'une certaine manière, l'occasion de redonner à la Faculté ou de participer à ses activités. La Faculté est en constante évolution, et la créativité des professeurs, du personnel et des étudiants est tout simplement épatante. Faites un détour du côté de la rue Peel pour voir ça. Climb the hill! »