On September 4, More than 70 graduate students from 29 countries were warmly welcomed to the Faculty by our new Associate Dean of Graduate Studies, Professor Angela Campbell, and the President of the Graduate Students Law Association (GLSA), DCL candidate Kuzivakwashe Charamba.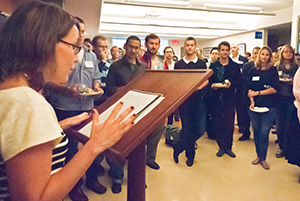 Speaking in 15 different languages, Campbell enthusiastically welcomed a big class of graduate students to the Faculty at a buffet lunch reception on September 4th. This year, McGill welcomes 11 DCL new students and more than 60 new LLMs, representing 29 different countries.
One of our new LLM students, Weisi Kong, was clearly exhilarated though admittedly a little jet-lagged after her recent journey from Guangzhou, in Guangdong Province. "It's my first trip outside of China," she said. "It is wonderful to be here. Everyone has been so welcoming to me."
Having completed her undergraduate law degree at Sun Yat-Sen University, Kong now intends to pursue her interests in Intellectual Property and Criminal Law at McGill, while also learning how to keep warm during the apparently world-famous Quebec winter.
She was reassured to meet many other new arrivals at the graduate students' dinner the night before, and particularly pleased to connect with another student from Southern China, Nanying Tao.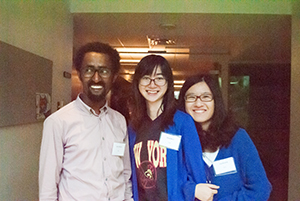 Hailing from Amoy University in Xiamen, Fujian Province, Tao is entering her first year of the DCL program, during which she will work on International Dispute Resolution with Professor Andrea Bjorklund.
The new friends posed for with another international DCL student, Shimelis Kene, from Ethiopia, whose doctoral work is in human rights law and counterterrorism, supervised by Professor Payam Akhavan.
Like this trio, many of our new graduate students "have crossed an ocean, learned a new language or two, left their family behind," and taken many more determined steps toward their goal in order to be here today, observed Dean Campbell in her remarks. It will take continued perseverance to realize their objectives—and "to do so within a reasonable frame of time," she added, only half joking.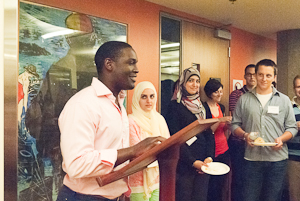 Looking out at the crowd, Campbell observed that each individual assembled there was "immersed in a sea of students, all bearing extraordinary aptitudes." She encouraged the new graduate students to join activities at the Faculty, particularly at one of the Faculty's intellectually vibrant research centres. "You bring diverse backgrounds and perspectives, and you share a collective destination; I urge you to share what you have to offer," she said, and in doing so, "become not only members but also citizens" of the McGill community.
These sentiments were echoed by the GLSA President, DCL candidate Kuzi Charamba, who offered his own seasoned advice to the new arrivals: "Seize every opportunity you can," he said, "to push your understanding of law to another level, and to connect with the fantastic body of people at McGill. It's a cliché, but only because it's true, that the more you put in, the more you get out."
-B.W.
 [ JUMP TO THE CURRENT EDITION OF FOCUS ONLINE  ]