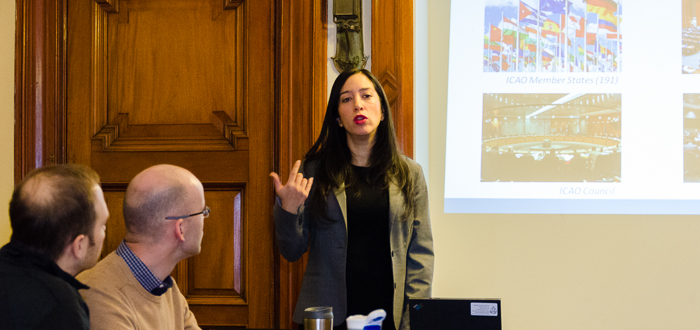 Institute of Air and Space Law graduate Jimena Blumenkron, LLM'09, is a legal and policy expert who specializes in aviation law and governance who is forging the way for women in her field. She sat down with Focus online to discuss her career.
In 2007, I was working for the Mexican Pilots' Association and came to Montreal for an event at the International Civil Aviation Organization and found out about the Institute of Air and Space Law (IASL) at McGill.
My dream at the time was to work for a UN organization and when I went and visited the Institute, I met (IASL administrative coordinator) Maria D'Amico and she explained the programs in air and space law to me, and talked about the prior Mexicans who had studied in the program had joined in the 70s. I thought that this would be the perfect niche for me because with this LLM, I would be able to work for the UN or go back to my country and have a very promising future.
Studying at McGill was a really fascinating experience. We had colleagues from all over the world. It was a very multidisciplinary environment with people from different backgrounds and the McGill network gave me a lot of opportunities to meet people and connect with different professionals.
From studying law to working ICAO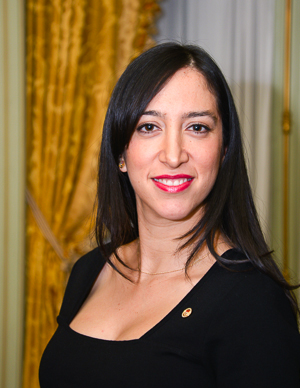 I got my degree in 2003 and then was a practising lawyer for four years, after which I worked for the Supreme Court of Justice and then for the pilots' union.
While I was studying, I did an internship with the International Federation of Airline Pilots Association (IFAPA), got to know a lot of things about how ICAO works and after a year or so, in 2010, I joined an internship at ICAO [and have been there ever since.]
I worked on the subject of protection of information and then on the protection of accident records. This work is about learning the probable causes of accident to avoid re-occurence, not to apportion blame or liability.
The other part I am working on is the integration of space activities with aviation. We cannot actually buy a ticket from Virgin Galactica and go to space, but it will happen soon. For ICAO, our mandate is about ensuring that when these activities occur, it will not affect the safety of international aviation. In high density traffic states, they use segregated air space and let the vehicle go up and down but that is not sustainable in the long term. If you want one operation per week, you need to integrate the horizontal and vertical traffic and we are setting scene to allow integration of those activities.
Women and aviation
Another thing I enjoy very much is supporting women in aviation. I am a member of the International Aviation Women's Association (IAWA) and facilitated the establishment of a scholarship program here at ICAO.
I sense that for men, when they are offered an opportunity, they are offered it because they are already seen as having the potential to accomplish that task. For women, I have the feeling you have to prove yourself before they give you that opportunity.
I like supporting women so that we can win a position not because we are women but because we are the best for that opportunity.
Currently an Aviation Safety Officer at ICAO, Blumenkron became President of the of the Institute of Air and Space Association last year, and guest lectures each year in Professor Paul Dempsey's public international air law class (as pictured above).