Law students have the opportunity to learn more during Career Days, which the CDO organizes yearly.
What does one do with a law degree these days? The Faculty's Career Development Office takes the question in its broadest sense and offers up a multitude of possibilities, addressing how the economic climate and changing legal landscape affect the search for a job.
A capacity crowd filled every chair in the room for a career development round-table at the Faculty in February but what really captured the students' attention – and got them typing and writing furiously into their notes – was Daniel Drapeau's pronouncement about the changing landscape of law firm hiring practices.
"Gone are the days when students are hired for technical ability," declared Drapeau, a Faculty graduate who is now counsel in intellectual property at Smart & Biggar/Fetherstonhaug. Speaking to students as part of a private practice recruitment panel at the height of the Montreal firm recruitment season, he added that law students today need to be not only well-informed about current events but also entrepreneurial and engaging.
"We want students who are interested in what makes people tick and who can ask intelligent questions," he said, "not just talk about oneself."
The panel, organized by the Faculty's Career Development Office (CDO), is just one of many events the office offers to get students thinking about their own career plans, with the goal of helping students navigate the rapidly changing realities and demands of the legal profession.
Catherine Bleau, director of the CDO, graduated from the Faculty in 2004 and took up the position in 2005, bringing with her an expansive approach to answering the question of what one can do with a law degree. "Our goal is to help students find a career that suits their expectations, whether that career is in traditional practice, in academia or beyond," she explained.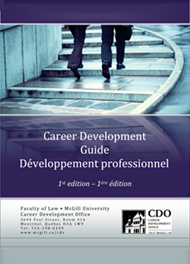 In the first edition of the office's Career Development Guide, published this past fall, Bleau notes that that this generation of students – Generation Y or the Millenials – hold "views about their job search and career development [that] have evolved with the times… [Their] career aspirations may be driven by freedom of choice, autonomy and risk."
To this end, the CDO aims to create events that are of interest to the students directly, such as a networking event organized in partnership with the students in the Human Rights Working Group, or a Graduate and Academic Careerd Day that Bleau initiated four years ago along with current Assistant Dean of Admissions Ali Martin-Mayer and that takes place every fall. The office also offers support for every step of the job application process, from curriculum vitae and cover letter editing to mock interview sessions that provide students with feedback on their presentations.
Expectations are high for McGill students, BCF lawyer Keyvan Nassiry emphasized to students during the private practice recruitment panel. "We expect you to be eloquent and able to hold your own in a conversation, whether it's about what's going on right now in the Middle East, the rise of China or what the World Cup will mean for Brazil."
Expectations are also changing.
"A few decades ago, most law firms in Canada were small enough that it was possible for the names of all partners to appear on the firm's masthead," notes Dean Daniel Jutras in the introduction to another CDO publication, the Guide to Careers in Smaller Firms. "Today, national firms count hundreds of lawyers, located in half-a-dozen cities across Canada, serving clients in an ever-shifting and highly competitive market for legal services."
For many students, who worry about the tight job market and about the importance their grades will have on their chances of finding a position, there is the additional challenge of aligning their interests with available job opportunities.
Michael Bookman, 3L, who is going to New York City to work for a firm this summer, has a background in risk consulting, an interest in international arbitration and a reservist position with the Canadian Navy. He says that the integrated McGill program provides a breadth to his studies that mirrors his diverse interests, which also include participating in an a cappella group and in intramural hockey and rugby, as well as co-authoring an academic paper on neighborly obligations.
"From what I can tell so far, employers are incredibly impressed that this [integrated program] is even possible, that someone has developed a curriculum like this and that students would be so agile across jurisdictions," he notes. "Having that kind of agility… is part of the way we start thinking. Statutes are statutes and the content of them may change but our ability to read them and apply them is a hallmark of this institution."
This integrated approach is demanding on students, but Nancy Arnold, senior counsel in Tax Law Services for the Department of Justice in Toronto, says that employers are taking note of the nimble lawyers the program produces. Graduates of the program have "a global perspective," Arnold said, speaking at a round-table for students curious about public interest law. "McGill grads look at problems from different angles; they're not looking to give me the right answer."