After graduation, alumnus Nafay Choudhury spent 14 months as an assistant professor at the American University of Afghanistan, where he taught courses in comparative law, contract law, and traditional justice, and helped to develop their law program. Choudhury is currently articling at the Department of Justice in Ottawa.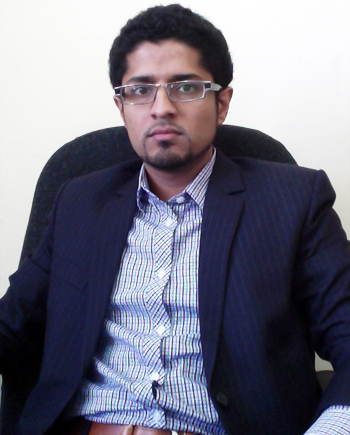 In December 2007, during my first year at the Faculty, I travelled to Afghanistan for the first time to carry out a short internship at a legal research foundation in Kabul. The streets were unpaved and muddy; bullet holes pocked the walls of every second building. However, the richness of the legal system that I started to uncover in Afghanistan made me quickly lose interest in the decrepit infrastructure. The trip shaped my entire experience throughout law school.
Back at the Faculty, I took it upon myself to gain exposure to non-western legal traditions. I participated in the Kawaskimhon (Aboriginal) Moot and also helped to establish a student-run blog known as Legal Frontiers, where I and other law students wrote about new frontiers of the law in atypical contexts. In my final semester, I carried out an exchange at the International Islamic University of Malaysia, where I exclusively studied Islamic law, and in the fall of 2012, a year following my graduation and at the age of 29, I prepared to embark on my next journey: I returned to Afghanistan and took up the position of Visiting Assistant Professor at the American University of Afghanistan (AUAF), through a fellowship administered by Stanford Law School.
Before getting to AUAF, let me say a word about Kabul. Life as a foreigner in Kabul presents challenges that are difficult for most to conceive. Extreme poverty is compounded with problems of rampant corruption, creating institutional impediments to development. While Kabul is no longer in an active state of war, the security situation remains volatile. The unpredictability of insurgency changes the entire dynamics of a country. Tall cement walls gated our university, with armed security posts atop every few hundred meters. For most of the university faculty, life was largely confined to the campus and the guarded guesthouses. Early on, I decided "When in Rome…" and thus I moved out of the guesthouse and into my own flat in a building housing Afghan families. I say in all earnestness that Afghans are incredibly warm people. It is a shame that the circumstances have led to such a segmented society.
The campus of AUAF was a world inside a world. Some of my students called it an oasis. The university was established in 2004 with the vision of providing Afghan students with a liberal-arts education in English. The small campus consists of 800 students, and classes average just 25—an ideal forum for engaging discussions. Importantly, the backgrounds of the professors are a healthy mixture of Afghan and international, and all take up the task of challenging students to think critically, defend their positions, and play a positive role in the future of Afghanistan.
I joined the Department of Political Science and Public Administration—as it was then called—in the fall of 2012. I was responsible for preparing and teaching several new law courses to widen the breadth of choices available to students. My first teaching assignment was a course in comparative law—very fitting for a McGill graduate. I was happy that, a week before my departure to Afghanistan, I had had the chance to sit down with Professor Rod Macdonald, who provided me his insights on the whole notion of comparative law. I recall one particularly profound remark that he made in the course of our discussion: "You can benefit the students greatly by letting them understand the complexity of the whole notion of comparison." Comparison, as he reminded me, is a function of the categories that we define as comparators, which in turn is fundamentally a normative (and dare I say even political) exercise.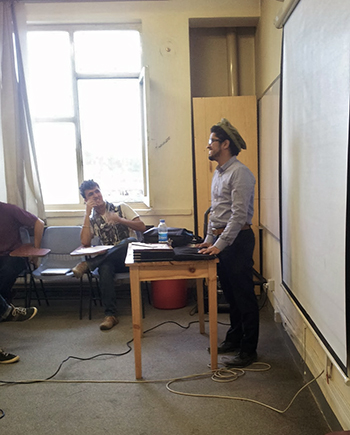 With his words etched into my mind, I taught a course that raised fundamental questions about the discipline of comparative law. Is comparative law a field or a method? How do we ensure that the chosen comparators are commensurate (and is this even necessary)? How does one understand legal systems versus legal traditions? My classroom teaching did not focus on institutions, whether they be in the civil law, common law, or otherwise, but rather, the emphasis was on understanding what it meant to operate within a given tradition from an internal perspective. We sought to understand the cognitive processes that characterized each tradition (I say "we" since it was as much a learning process for me as it was for the students). Students found the discussions very relevant to their situation in Afghanistan, where competing claims to legal normativity are an issue of daily life.
In October, midway through my first semester of teaching, AUAF received a large grant from the US government to commence a full law degree the following semester. Thenceforth, the Department of Law separated from the Department of Political Science. The work in establishing the new department was a combined initiative of AUAF and students and professors of the Afghanistan Legal Education Project at Stanford Law School. The discussions that took place in preparing the law curriculum were remarkably rich – and "transsystemic," to use a McGill term. Our team had to grapple with the tensions within Afghanistan's legal system, which contains significant elements from civil, Islamic, and customary legal traditions. Officially, Afghanistan is a civil law jurisdiction, where substantive laws are required to be consistent with Islamic law. Many of our team members were trained in the common law, and thus we took great care to ensure that legal concepts and terminologies reflected their usage in Afghanistan, which more closely followed the civil law tradition. We looked at unilateral contracts from the civil law perspective. We used terminology such as 'delict' rather than 'torts.' In the curriculum we ultimately designed, students are required to study civil, Islamic, and customary legal traditions. Certain courses cut across traditions. For example, in the contract law course that I taught in my second semester, I would occasionally compare civil law (as understood through the Civil Code of Afghanistan) and Islamic law approaches of the given legal problem.
It is important to keep in mind that these rich discussions within the university, along with the students' genuine desire to learn, took place amid the tensions that defined the surrounding city.
I recall one morning I woke up to news of a suicide bombing in my area of the city. I know this because my building shook from the explosion, and a few seconds later, the mushroom cloud was visible from my window—three blocks in front of me. I later learned that the terrible incident took the lives of three individuals. Coincidently, I had an exam scheduled for that afternoon. After, conversing with fellow faculty and thinking carefully about the matter, I decided to push forward with the exam. The incident was undeniably tragic and left the entire city shaken. However, our duty at AUAF was to raise students to another level despite the surrounding circumstances. That is how we tried to bring about incremental change. By and large, we were successful. Students entered AUAF weighed down by decades of conflicts, but by the time they left, they had a world of possibilities in front of them.
By Nafay Choudhury (BCL/LLB'11)
You can see more of Kabul and Afghanistan through Nafay's photographs.
[ JUMP TO THE CURRENT EDITION OF FOCUS ONLINE ]