At the end of the fall term, five doctoral students put on their power suits and their best Power Point presentations and sought to convince a panel of three judges that their research merited media attention.
Hoping to get her colleagues thinking about communicating their work outside of academic conferences and publications, Sarah Berger-Richardson, a doctoral student and organizer of the DCL Research Series for the 2015-2016 academic year, decided to organize a media pitch session.
"As doctoral students, many of us are working on cutting-edge research that can be of interest to people outside of academia and the theme for this year's series is communicating research to non-academic audiences," she said, adding that the media pitch event was inspired by her participation in a policy 'dragon's den' hosted by McGill's Institute for Health and Social Policy in June (pictured above). "Knowing that many of my colleagues are working on extremely timely projects and that law students are confident speakers who love to compete, the idea of a media pitch competition was born."
Each participant spoke for three and a half minutes and received four minutes of feedback. Timiebi Aganaba spoke about overcoming the danger of a "single story" of space actors, Alexandra Pasca presented, in French, on portraits of judges (Portraits du juge et de l'avocat civilistes dans la culture populaire), Alexander Ezenagu spoke about double taxation and non-taxation in relation to why developing countries are still under-developed, Eliza Bateman spoke about the status of LGBT conversion therapies in the 21st century and Bradley Por presented on First Peoples' blockades enacting law across Canada.
When it was all said and done, the judges chose Bradley Por as the winner for the way in which his presentation combined an evocative use of visuals and a compelling story.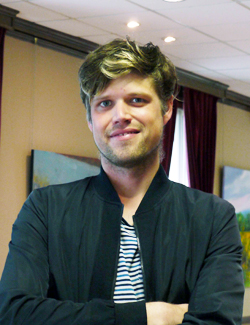 "I actually found it to be really terrifying, because it was really quick — three minutes is so fast to make any point," Por said, reflecting on the experience. "I was lucky because I was the last person to present, and I listened to the feedback that everyone else got and kept that in my mind as I presented. But it's a different way of communicating and I was more anxious than I have been presenting at academic conferences or presenting my master's thesis."
"My project is about First Nations blockades, so it's about direct action and protecting a place, so it really lends itself well to visuals," he said. But, he added, he was especially keen to take part in the event because his project has a particular connection to media. "Almost all of our understanding of First Nations direct actions comes from the media and news reports and there's a certain kind of immediate reaction of people assuming that blockaders being treated as outlaws and of police being critiqued when let blockaders break the law.
"I think it needs to be talked about more academically so bringing my subject back to the media realm is really important to me," he concluded. "I really am grateful Sarah organized this. I think it's an awesome idea. I think we should all be learning to communicate in different worlds."