On April 4, alumnus David O'Brien (BCL '65) joined four of the Faculty's current graduate students, all four of whom have received O'Brien Graduate Fellowships for Human Rights and Legal Pluralism, for a congenial gathering in the Common Room.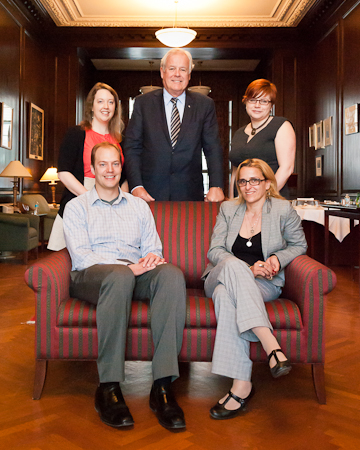 During the gathering, the Fellows had occasion to present their work and discuss the issues over coffee: LLM student John Hursh works on women's land rights; DCL candidate Róisín Hennessy focuses on the challenges of regulating child labour; Claris Harbon's doctoral research is on civil disobedience and women's rights; and Marika Giles Samson is looking at the use of the courts to marginalise political opposition as part of her DCL research.
All expressed their appreciation for the support they have received from Mr. O'Brien. "I wouldn't be able to pursue my research if it wasn't for this fellowship," said Samson. "It is the reason I am at McGill."
The O'Brien Graduate Fellowships for Human Rights and Legal Pluralism is a permanent endowment that is used to attract top young scholars from around the world to do graduate work in human rights at McGill. It was established in 2005 by David O'Brien, Chairman of RBC and the country's largest independent oil and gas company, Encana.
Through the O'Brien fellowships, the Faculty has attracted many top young scholars over the years, including current Fellows Bethany Hastie (LLM'12) and Sabaa Ahmad Khan, and past Fellows Futsum Tesfatsion Abbay (DCL'12), Maureen Duffy (DCL'12), Carlos Iván Fuentes (LLM'07), Katherine Glover, Jing Guan, Edin Hodžic, Amar Khoday (LLM'08), and Salma Sharifi Khajedehi (LLM'10). Two have since received prestigious scholarships–Harboun's Trudeau Fellowship and Glover's Vanier CGS Scholarship–while another two former O'Brien Fellows have recently assumed teaching positions as Assistant Professors of Law: Khoday at the University of Manitoba and Duffy at the University of Calgary.
The O'Brien Fellowship also provides opportunities for the Centre for Human Rights and Legal Pluralism (CHRLP) to attract visiting scholars through the O'Brien Fellows in Residence program, a new endowment established in 2011. As Professor Colleen Shepherd, Director of the CHRLP, was pleased to report at the meeting, the Centre welcomed its first ever O'Brien Fellow in Residence, Professor Esmeralda Thornhill (Schulich Law School, Dalhousie University) in November 2012, and its second, Justice Anthony Francis Tissa Fernando (Court of Appeal, Republic of Seychelles), in January 2013.
For more information, visit the O'Brien Graduate Fellowships section of the McGill Centre for Human Rights and Legal Pluralism website. For those interested in applying, see the Law Graduate Admissions: Financial Help.
Article by Bridget Wayland
Photo by Lysanne Larose