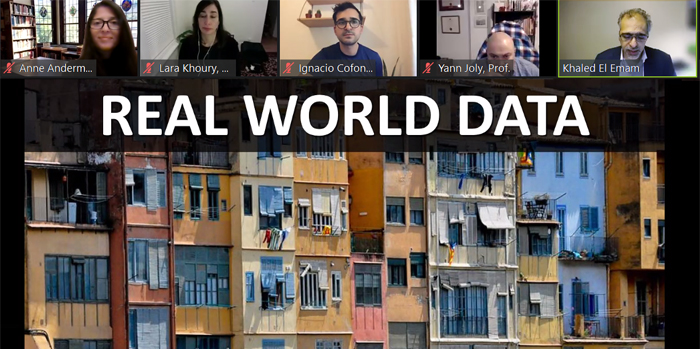 RGHL panel addresses public health, privacy considerations under COVID-19
by Claire Loewen
The COVID-19 pandemic has forced change in almost every aspect of human life: from workplace culture, to social interactions, to simple acts such as taking a stroll. But how does the pandemic change our expectations when it comes to protecting our privacy?
Do current privacy rules and policies, as well as technology being used in Canada, provide useful tools to reinforce public health strategies? Or, on the contrary, do solid privacy protections hinder the work of public health authorities?
These questions were taken up at an interdisciplinary panel earlier this month entitled New or Normal: Privacy, Public Health and the Pandemic, a virtual event hosted by the Faculty's Research Group on Health and Law (RGHL). Three panelists from law, public health, and engineering technology backgrounds discussed the numerous privacy implications of pandemic responses.
Public health policy and contact-tracing apps
Professor Ignacio Cofone, who teaches Privacy Law and Artificial Intelligence Law at the Faculty, discussed the various considerations policy-makers should weigh when developing and selecting contact-tracing applications.
Cofone pointed out that there are many choices for individuals and policy-makers when assessing these apps. For example, the federal government chose to use the more secure Bluetooth data – as opposed to GPS data – for its COVID Alert app. Considering more marginalized populations who might not have the technological literacy to access these apps, or even the most recent phone models required for them, is also crucial, Cofone said.
"One key reason to be vigilant about privacy is that it's intrinsically linked to a host of other interests that are sometimes more immediately visible," Cofone suggested, such as physical safety and financial security.
He also touched on the risks associated with relinquishing privacy in legislation.  "The main issue with relinquishing privacy is that, throughout history, most of the times when privacy is relinquished, that tends to stick after the crisis is over," Cofone said.
Cofone concluded by stating that decisions about whether to use contact tracing apps – and, more importantly, which apps to choose – should be made based on a proportionality between public policy considerations, on the one hand, and individual privacy choices on the other.
Balancing benefits and harms in public health policy
A former Rhodes Scholar with more than 15 years of experience working as a public health specialist, Professor Anne Andermann, from McGill's Faculty of Medicine, highlighted the importance of ensuring a balance in the distribution of benefits and harms when drafting public health policy.
In the context of the COVID-19 pandemic, this means preventing and controlling spread of disease without unduly infringing on privacy and freedom.
"According to the Charter of Rights and Freedoms, everyone has a right to life and a right to security; but there is also the right to personal freedom," said Dr. Andermann. "So there are tradeoffs. A person's freedoms can have certain limits when this would harm a third party, like with secondhand smoke."
Some people are more likely to be exposed to and harmed by the pandemic, and members of these groups pay the price when others in society do not adhere to public health directives, such as wearing masks or avoiding gatherings.
Dr. Andermann stressed the importance of thinking about who is being harmed when people do not respect public health measures, and emphasized the need to ensure that the right to privacy does not infringe on the right to life and security of those who may be more at risk or less able to protect themselves.
Public health data, privacy, and the need for accessibility
Dr. Khaled El Emam is a Professor of Epidemiology and Public Health at the University of Ottawa and director of the multi-disciplinary Electronic Health Information Laboratory, where he conducts academic research on de-identification and re-identification risk. He discussed the need for access to public health data, as well as the privacy risks associated with accessing that data.
"What we have learned so far from this [pandemic] experience allows us to be prepared for the next pandemic. But, more generally, it may allow us to have a better new normal that is data-enabled," Dr. El Emam said.
Although access and research on real world health data is beneficial to society and to individuals, there is no practicable way to ensure public health data remains unidentifiable – even if there are ways to limit the risks, Dr. El Emam said.
"There's always going to be some risk," said Dr. El Emam, "and so the question is, what is acceptable risk?"