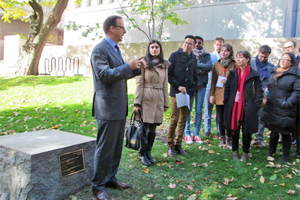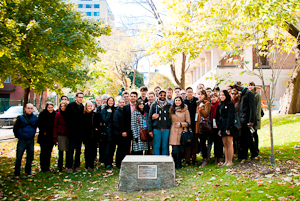 In a heartfelt ceremony held on the west lawn of Chancellor Day Hall October 13, the Faculty unveiled a plaque in memory of Alexandra Dodger, BCL/LLB'11, who passed away almost one year ago, on October 16, 2011, at the age of 27. Moving speeches were given by Dean Daniel Jutras, Dina Awad and Gregory Ko.
To honour her life, social values and unique spirit, the Friends of Alex Dodger have been raising funds for an "Alexandra Dodger Memorial Award" since last December.
"Donations have come in from her classmates, alumni, professors, the Students' Society of McGill University, and Alex's colleagues from Ontario, as well as family members," said Development officer Ester Driham.
Now permanently endowed, this award will provide a bursary of approximately $1500 each year to a student entering McGill's Faculty of Law who is in financial need and who has demonstrated a passion for social justice.
For more information, or to contribute, please visit the Alexandra Dodger Memorial Award website or contact the Law Faculty's Development office, at 514-398-1844 or katherine.knitel@mcgill.ca .