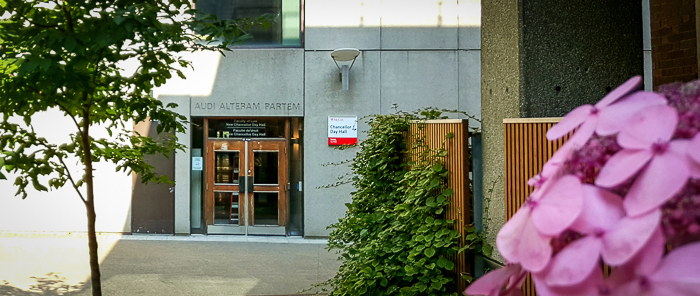 Now in their second year, the students from the first cohort of the Faculty's renewed curriculum got their first Focus Week experience this fall. These two- to five-day workshops are aimed at developing hands-on practical skills, and allow the Faculty to bring in alumni who would not be available for an entire term. We spoke with alumnus Robert Valdmanis, LLB'94, about his experience leading a negotiation workshop with the students.
Could you describe the workshop you held with the students?
The Focus Week Negotiation Workshop explored negotiation theory and interest-based agreement making. Students were given the opportunity to apply the theory we learned in simulations and in class exercises. We practiced skills like listening and non-confrontational question asking – seemingly lost arts in our increasingly cynical society. Yet, there is a reason that the words "Audi Alteram Partem" are emblazoned into the concrete above one of the doors of our Faculty, and I hope my students came away with a much greater appreciation as to why this is so important and valuable.
Everybody negotiates dozens of things a day without really realizing it. Lawyers are often asked or required to negotiate contracts, or participate in discussions about complex issues, where legal considerations may rise. We have all heard of the stories where CEOs throw the lawyers out of the room so they can "get the deal done". In my experience, and I have been lucky to have worked closely with some of the best – the lawyers who have a larger tool box for solving problems, avoid thinking every problem is a nail because the only tool they have is a hammer. These are really invaluable people and they become essential members of the team. They are the ones who are asked to stay to get the deal done, and they get invited back time and again.
What was the highlight of the workshop for you? Did anything surprise you?
This course has the potential to deeply change the prism through which people see the world – it did for me – so I always love to see how people internalize things they have learned when they have a chance to see them in practice. What surprised me this year was the deep engagement and enthusiasm of the students – and the thrill of being back in classroom at McGill Law – but most of all, I was surprised by the number of students who reached out to thank me, and tell me how they had achieved better outcomes using the learnings in the course. It is not unusual for this to happen, but the degree of response was remarkable and surprising.
What motivated you to get involved?
A couple of years ago I was invited to be a member of the Curriculum Renewal Committee, and I jumped at it, because I have been advocating for this type of course at McGill Law since I was a second year student. At that time, I had volunteered with the Jeanne Sauvé Foundation to help train some 300 young leaders from around the world. As a volunteer trainer, I was trained by members of the Harvard Negotiation Project, and I learned that Harvard Law School required their students to take 6 credits from the Harvard Negotiation project before graduating.
More importantly, the training taught me that, unlike the paradigm often applied to those passions of mine up to that time like wrestling, football, chess, debating, law, etc., the world is not always zero sum. In fact, the more you test that assumption – the more you realize the potential for value creation – and it changed my life.
What were the most important skills you developed during your law studies?
My experience at McGill Law was fantastic, even though I entered knowing I would practice communications and public affairs, and had no intention of practicing law. I enjoyed the rigorous intellectual training, and the way the law reveals insights about history, society and people. I was fascinated by the cases – studying them provided an accelerated accumulation of insights and experience that could otherwise have taken lifetimes to achieve.
Best of all, however, was the quality of the professors and fellow students made it such a great environment for learning. I am still in regular contact with many of my classmates and professors and value these relationships most of all. Now, I feel privileged to be involved in the Faculty again and connected to the next generation of students to complete the circle.
Robert Valdmanis, LLB'94, is founder and President and of RVC Inc., a global communications and public affairs strategy firm based in Montreal, offering research, strategy, training and counsel, to media, government, and community organizations to optimize their communication, stakeholder relations, corporate social investment and sustainability initiatives.
Valdmanis also holds a BA (Hons) in Political Science with distinction from Concordia University's School of Community and Public Affairs (SCPA), where he is an Adjunct Professor and Member of their Advisory Board.
Un grand merci !
We want to express our sincere gratitude to all alumni who participated in the Focus Week workshops. "Students benefited from the practical insights that only our alumni mentors could bring to these exercises," Legal Ethics and Professionalism Faculty Lecturer Cristina Toteda said. Alumni interested in working with students in experiential learning exercises are invited to get in touch with her at cristina.toteda@mcgill.ca.
Edward Bechard-Torres, BCL/LLB'13
Caroline-Ariane Bernier, BCL/LLB'14
Charlotte Burns, BCL/LLB'12
Victoria Cohene, BCL/LLB'09
Ayse Dalli, BCL'02, LLB'02
Annamaria Enenajor, BCL/LLB'12
Carle Jane Evans, BCL/LLB'14
Tatiana Gomez, BCL/LLB'08
Amelie T Gouin, BCL/LLB'12

Emily Hazlett, BCL/LLB'15
Andrew Hodhod, BCL/LLB'12
Jameela Jeeroburkhan, BCL/LLB'05
Anais Kadian, BCL/LLB'12
Sophie Kaine Roy, BCL/LLB'05
Jean Lortie, BCL'89, LLB'89
Dimitri Maniatis, BCL'95, LLB'95, LLM'01
Jonathan Ostrzega, BCL/LLB'09

Neil Peden, BCL'99, LLB'99
Michael Redmond, BCL'01, LLB'01
Sophie Roy Lafleur, BCL/LLB'11
Simon Seida, BCL/LLB'08
Jessica Syms, BCL/LLB'12
Emira Tufo, BCL/LLB'12
Chima Ubani, BCL/LLB'08
Robert Valdmanis, LLB'94
Robert Vitulano, BCL/LLB'13