Chiara Fish, a third-year student at the Faculty, shares her experiences working as a human rights intern in Iqaluit, from helping with legal research to representing clients during bail hearings
By Mark Ordonselli
A teenage Inuk boy awaits his bail hearing in a cell in Iqaluit, Nunavut.  "He's there because he assaulted his girlfriend, and he's bawling," says third-year McGill Law student Chiara Fish.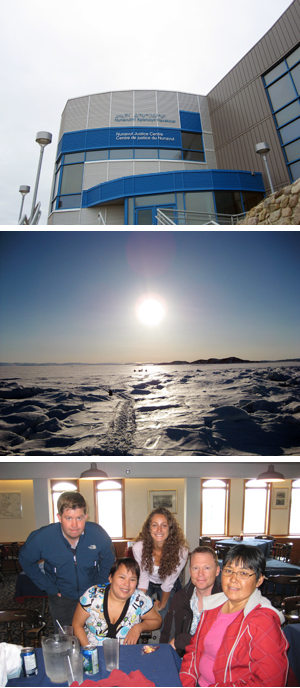 "He may not understand what he's done wrong, because he's grown up in a house with so much violence, and we're putting him in jail instead of helping him. That's a huge violation, I think, of his rights."
.
Fish spent the summer on a Human Rights Internship at Maliiganik Tukisiiniakvik Legal Services in Iqaluit, organized by the McGill Centre for Human Rights & Legal Pluralism (CHRLP).  In Quebec, legal interns are generally relegated to research duty, but Nunavut is so desperately short of public defenders that interns like Chiara also represent clients in bail hearings.
"It's a huge responsibility," she says, "but if students and court workers didn't do bail hearings, the accused would have to either wait in a detention facility for one of the already overworked lawyers, or represent themselves.  They're just so grateful that there's somebody willing to help them.  We all have rights, whether guilty or not, and the job of defence counsel is to ensure that those rights are respected."
By Canadian standards, Nunavut is poor.  Unemployment hovers around 25 per cent, and just 43 per cent of residents over the age of 15 have high school diplomas.  The violent crime rate is four times the national average.  And with limited access to jobs, education and social services, Nunavut's youth are four times as likely to be incarcerated as other young Canadians.
"We have this wonderful Youth Criminal Justice Act," Chiara says, "which says we don't put youth in jail if what they really need is mental health help, child protection services or alternative social measures.  But because there are no alternatives up north, we take youth who need help and put them in jail."
Internships like Chiara's provide sobering hands-on experience for tomorrow's lawyers and help shed light on inequality, both at home and abroad.  Over the last decade, the CHRLP has sent some 150 interns to HIV/AIDS advocacy groups in Toronto, the International Criminal Tribunal for Rwanda, and a host of other initiatives in Cambodia, New York, Cameroon and elsewhere.  Two more interns will take part in the Truth and Reconciliation Commission of Canada, helping to raise awareness of more than a century of abuse in aboriginal residential schools.
"It's a great education for the intern," says Nandini Ramanujam, Executive Director at the Centre.  "What they feed back into the faculty is wonderful first-hand educational material for all of us – a great model of experiential learning.  And interns like Chiara are the most effective spokespeople to educate people about what it's like in places like Nunavut, and how the justice system is not just."
"When we realize that this is happening in Canada," Ramanujam says, "suddenly the reality hits harder. People think that as a developed country with a good reputation for human rights, we can be content and complacent.  But on the contrary, every country has its own set of issues.  You have to be vigilant, and have watchdogs and people who are challenging the system.  And there's something wrong with this system. It's a vicious cycle of crime and punishment that doesn't do any good to anybody."
Photos were provided by Chiara Fish.
---
Michael Novak and Kathleen Weil Human Rights Internship Award
Chiara Fish's internship was funded by an award established in 2008 by Michael Novak, B.C.L. '80, LL.B. '81, and Kathleen Weil, B.C.L. '82, LL.B. '82. The Faculty presents the award to one or more outstanding undergraduate students participating in a human rights internship administered by the Centre for Human Rights and Legal Pluralism.
Novak and Weil met with the 2010-2011 recipients of the award during a luncheon at the Faculty earlier this term.