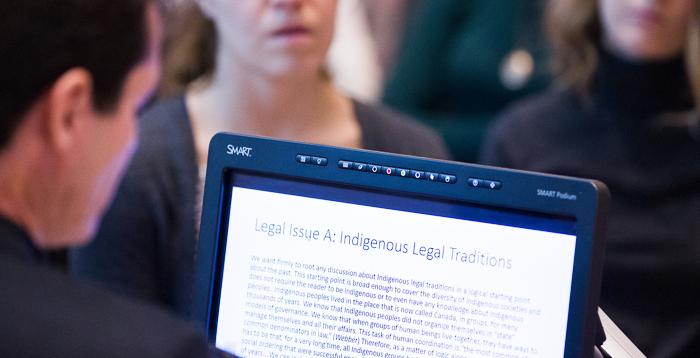 After their holiday break, first-year students at McGill University's Faculty of Law came back to something different this week. They are participating in an intensive course on Indigenous legal traditions. It's a first for us at McGill and possibly a first at any Canadian law faculty. It's a promising step toward remedying some of the legal system's wrongs toward Indigenous peoples.
By Robert Leckey, Montreal Gazette, January 5, 2017
Professor Hoi Kong explains an exercise.
McGill faculty members and some grad students, as well as guest professors, participated in teaching during Integration Week.
An exercise demonstrating issues with land rights.
Students were taught in large plenaries, but also in small groups.
Guided by guests as well as by McGill professors, our students are starting the complex process of learning about Indigenous peoples' law. Doing so involves attending to sources of law — and resources for learning law — such as oral histories and stories that differ a lot from the materials in the usual law classroom.
Studying Indigenous legal traditions also involves learning central concepts that are quite different from the ones on which European legal systems are founded. For examples, our students have been seeing an emphasis on relationships and an ideal of interdependence, rather than on individual autonomy.
Taking seriously Indigenous peoples' forms of social ordering and governance as law is also radically different from studying colonizers' law about Indigenous peoples. Law faculties across the country have made increasing space for doing so since key judgments by the Supreme Court of Canada in the 1970s and since the 1982 Constitution Act recognized Aboriginal rights.
To be sure, the goals for this program, which runs until Tuesday, must be modest. Hadley Friedland, visiting professor from the University of Alberta, stated the obvious by telling students on Day 1 that they wouldn't thoroughly learn Indigenous law in a week. What they might do, she said, was to start learning about how to learn Indigenous law. She pointed out that one of the risks of such an endeavour is not what you don't know, but what you think you know.
Our intensive course is part of a larger curricular renewal that will substantially bolster the place of Indigenous legal traditions in legal education at McGill. New courses in Criminal Justice and Property Law both make space for Indigenous approaches in these areas. This week builds on path-breaking elective courses developed by my colleague Kirsten Anker.
All these efforts are part of the McGill Faculty of Law's response to the 2015 report of the Truth and Reconciliation Commission. The report's Call to Action No. 28 singled out Canadian law schools as having special responsibility to educate our students about the history and legacy of residential schools. It also calls on law schools to offer skills-based training in intercultural competency and anti-racism. A Provost's Task Force on Indigenous Studies and Indigenous Education is helping McGill as a whole to develop its responses to the report.
For decades already, legal education at McGill has crossed conventional boundaries. It has done so by integrating the common law, inherited from England, with Quebec's civil law, inherited from France. Including Indigenous legal traditions is a logical extension of our teaching. The Truth and Reconciliation Commission's report crystallized the moral and political imperative of doing so.
I expect that when our first-year students resume their regular classes, they will be changed by their Integration Week, at least a little. I hope that they will better appreciate that while some problems of living in community are universal, the foundational concepts of European legal traditions are not. Rather, they are specific ones that arise from a particular context. Our students might feel disoriented, in a productive way.
Speaking more broadly, addressing the Canadian legacy of colonialism regarding Indigenous peoples doesn't allow anyone to stay in his or her comfort zone. Law faculties and universities have a long way to go on this issue — and it's crucial to talk about the experiments and tentative steps forward.
Robert Leckey is Dean of the Faculty of Law at McGill University and Samuel Gale Professor.
Photos by Owen Egan.
In the press
The intensive course, which ran January 4 to January 10, 2017, caught the attention of several news outlets. Here are some of them.