McGill students argue that animal law is a growing and increasingly important legal subject. Their work, along with that of three other McGill alumni, is profiled in a Global Television documentary hosted by former news anchor Kevin Newman.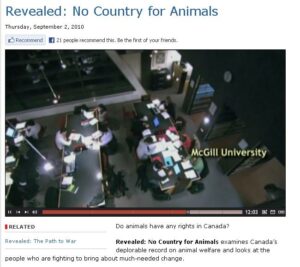 When iconic Global TV anchor Kevin Newman stepped down from the news desk this summer, he turned his attention to producing documentaries and immediately approached a handful of McGill students and graduates for interviews.
Newman was producing and hosting an hour-long feature on animal welfare in Canada and the Faculty's growing involvement and expertise on the matter drew his attention.
The finished product, Revealed: No Country for Animals, aired on Global Television this summer and features Law alumni Alanna Devine BCL/LLB'06, Mathieu Bouchard BCL'00, LLB'00, and Kurt Johnson BCL'91, LLB'91 discussing the state of animal protection measures in Quebec and in Canada.
"The statement that the Criminal Code is pretty much useless for the protection of animals against cruelty and neglect is very accurate," Devine says, adding with a wry laugh, "There's not much distinction between an animal and a chair, unfortunately."
"[Arguing animal welfare cases in court] has an added difficulty to it because you're fighting on behalf of animals who cannot come before the court," Bouchard explains.
Newman also profiles Sophie Gaillard, 3L, and Ashlyn O'Mara, 4L, as members of a "new, young generation dedicated to the fight to improve the lives of animals through legal and educational means." Gaillard and O'Mara represent a wind of change in legal studies wherein animal law is slowly gaining mainstream acceptance as a viable career, Newman says in the documentary.
"We are where the environmental movement was 25 years ago," Devine tells Newman. "Twenty five years ago, if anyone said, 'Yeah, I'm taking a class in environmental law,' everyone sort of looked at them, rolled their eyes… it certainly wasn't common. Now we see entire firms dedicated to the practice of environmental law."
Adds Gaillard, "I definitely think animal rights, animal advocacy, is the next big moral movement."
Watch the documentary in its entirety online.