The O'Brien Human Rights Fellows in Residence Program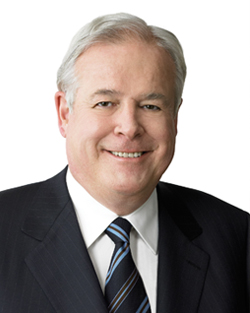 Following a generous endowment in 2006 that helped attract graduate students interested in human rights law to the Faculty, David P. O'Brien, BCL'65, OC,has created a second fund to support the Human Rights Fellows in Residence program.
The new endowment of $550,000 will allow the Centre for Human Rights and Legal Pluralism (CHRLP) to bring diverse human rights scholars, activists, advocates, journalists, jurists and civil society representatives from around the world to the Faculty for a residency of three to six months, or longer, as appropriate.
"Discussions in human rights law are central to this Faculty's commitment to examining questions of globalization, diversity and public policy," said Dean Daniel Jutras. "David O'Brien's visionary support will, as it has in the past, allow the Centre for Human Rights and Legal Pluralism to establish itself as an international leader in this field."
This initiative builds on the distinguished legacies of McGill human rights scholars such as John Humphrey, who helped to write the Universal Declaration of Human Rights, Frank R. Scott and Paul-André Crépeau, drafters of the early versions that led to the Quebec Charter of Human Rights and Freedoms, and Irwin Cotler, former Canadian Minister of Justice and Attorney General.
As current Centre director Colleen Sheppard explained, the O'Brien fellows program "resonates with our Centre's commitment to developing interdisciplinary and contextual approaches to human rights that help to bridge the gap between theory and practice." She added that the initiative will "deepen our capacity to connect work at the Centre with the knowledge, concerns and engagements of individuals and communities around the world."

Elizabeth Monk, BCL'23, the first woman to win the Faculty's Gold Medal for academic excellence and the first Quebec woman to receive a Queen's Counsel designation, was honoured by the University Women's Club of Montreal in October.
(Excerpted from the October 28, 2011 Montreal Gazette article by Kathryn Léger)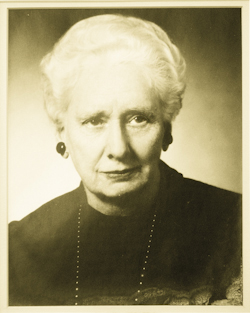 A slice of unforgettable history was served up this week at the Atwater Club as female lawyers and judges joined forces with the University Women's Club of Montreal to celebrate a new partnership to honour one of Montreal's pioneering female corporate lawyers. During her storied law career, Elizabeth Monk, BCL'23, served for decades such prestigious clients as Noranda Inc. (the Quebec mining company that merged with Falconbridge Ltd. and is now part of Swissbased Xstrata PLC) and then U.S. industrial giants like Midland-Ross Co. and Flintkote Co. in local business ventures.
The start of her law practice, however, was quite a different story. After graduating at the age of 23 with the highest standing in the civil law program at the Faculty of law at McGill University, Monk would have to wait close to 20 years before gaining admission to the Quebec Bar, the professional order representing Quebec lawyers. It was only in 1941 that the government of Quebec Premier Joseph-Adélard Godbout enabled legislation to amend the Bar Act to allow the admission of women – a milestone now being marked in this 70th anniversary year.
Monk, along with Constance Garner-Short, Suzanne Raymond-Filion, and Marcelle Hémond-Lacoste, became one of the first women to be officially admitted to the professional order in 1942. "We are honouring this extraordinary woman, this pioneer, without whom I can say the legal community would not be the same because she did a lot of things for the advancement of women within the legal community, but also Quebec society," said Anne-Marie Trahan, the decorated Montreal lawyer who retired as judge of the Quebec Superior Court last year.
[…]
To honour Monk's memory, the University Women's Club of Montreal, is using part of the endowment money left by its former president to support its work helping professional women, to fund a series of special lectures that are set to begin next year under the aegis of the Montreal Bar's Women in the Profession Committee. (Monk worked until five months before she died at the age of 82 in 1980.)