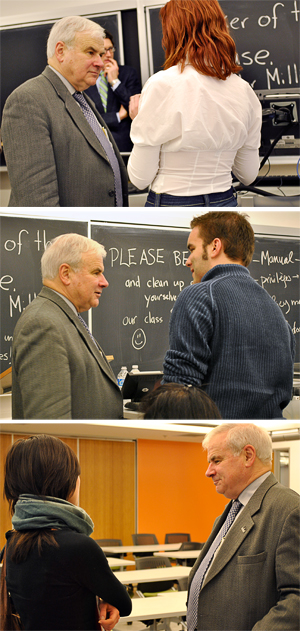 A delayed train didn't stop the Honourable Peter Milliken from meeting with a classroom full of students at the end of January to share insights on his role as the longest-serving Speaker of the House of Commons.
"At least I got a lot of reading done," Milliken joked of the 45-minute delay that pushed back the event's start time but did nothing to diminish the number of students and faculty members in attendance.
His sense of humour solidly in place and his demeanour down-to-earth, Milliken first addressed the audience for half an hour, providing a glimpse into how he fulfills the various duties of his job, from casting a vote in the event of a tie to chairing the Board of Internal Economy and meeting with visiting dignitaries.
In the event of a tie vote in the House, the Speaker is required to cast the tie-breaking vote and a smiling Milliken revealed that of the 10 such ties since Confederation, he has had to break five: "more than my fair share, I'd say."
Milliken also drew a vivid picture of the busy social calendar that comprises part of the Speaker's duties, attending receptions for foreign diplomats and visiting delegations: "Three or four receptions per evening is not uncommon," he noted, adding that the demanding schedule nevertheless permits the development of a robust and global diplomatic network.
Following his prepared speech, Milliken amiably answered questions for the remainder of the hour and a half and spent some time afterward speaking individually to students before catching the (punctual) afternoon train back to Ottawa.
The Law Students Association and the 1L Class Presidents organized the event, with assistance from Professor Robert Leckey.
.