A cradle that knits together the lives of many with ties to the Faculty features in a fairy-tale retelling of its life
By Victoria Leenders-Cheng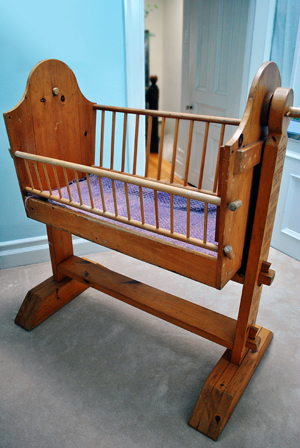 In the beginning, there was the cradle. Made of burnished pine, it stood on two sturdy legs, supporting a bassinette that swayed gently when rocked.
The year was 1982 and in that day, Roderick Macdonald – future Dean at McGill's Faculty of Law – was not only a young professor but a new father as well.
He looked at his newborn daughter, her hands so tiny and her eyes so brown; he looked at the cradle, its interlocking pieces so carefully crafted by his father-in-law, its legs so faithfully strong; and he saw that it was good.
So it was that Madeleine Macdonald slept in the cradle for the first nine months of her young life, followed two years later by her brother, Aidan.
And when Madeleine and Aidan outgrew that sturdy cradle of pine, Roderick Macdonald heard that Jean-Marc Boudrias, a former roommate and a fellow graduate of the University of Ottawa – had had a son.
He thought of his friend as he looked at the cradle and he said to himself, "Here we are, Jean-Marc and I, just starting out on our careers, our young families trying to make every penny count. This cradle would probably help him out."
And so, like the Macdonald children, the first Boudrias child, Hubert, born in May of 1985, made of the cradle his first place of rest. Scarce had he outgrown the bassinette's trim bars when Rod heard that Ralph Simmonds – a fellow graduate of the LL.M. program at the University of Toronto, and a professor at the Faculty – had also had a son, Philippe.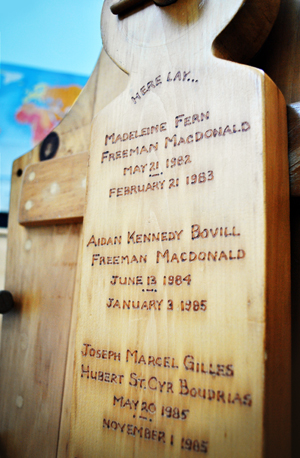 He thought of his friend as he looked at the cradle and again, he said to himself, "Here we are, Ralph and I, with our growing families, making the best of it that we can. This cradle would probably help him out."
From that day forth, the sturdy cradle of pine traveled the city of Montreal, from family to family, its five efficient pieces ingeniously dismantling and re-assembling to hold infant after infant: boys for the St. Cyr Boudrias family and the Giguère-Simmons clan; John and David, two of the Stevens brothers; the Comtois-Janda siblings, Emil and Alice; the first of the two Savard-Jutras sisters, Camille; Gabriel Calderón-Hornik and Lisa Simkus.
Eleven children, each with a stay between three and nine months, over the course of twelve years (plus, more recently, Marilou and Mathieu Garand), and all with a connection to Rod and his wife, Shelley Freeman.
Through the sweep of time, some of these ties to the cradle trace out the trajectories of multiple lives and careers linked to the university milieu and legal world.
Boudrias the elder became a senior administrator at the University of Montreal; the fathers Macdonald, Janda, Jutras and Stevens have all logged time as professors at the McGill Faculty of Law while Jutras senior serves as its current Dean. Louise Comtois has a law practice, and Manon Savard and Ralph Simmonds work as judges, in Montreal and Perth, Australia respectively.
Now, the cradle rests with its original owners, in a room painted robin's egg blue. Its level bars no longer feel the grasp of little hands and its basin no longer gently sways, but the cradle is not forlorn.
Rather, it bears the legacy of the thirteen children — Madeleine, Aidan, Hubert, Philippe, John, Lisa, David, Emil, Camille, Gabriel, Alice, Marilou and Mathieu — who have lain in its cozy bassinette, their names and dates of residency etched on its end-posts of pine, quietly awaiting its next tiny guest.
Photo credit: Lysanne Larose