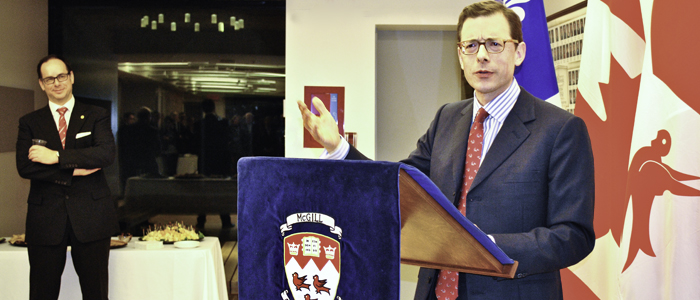 The newly inaugurated Osler, Hoskin & Harcourt LLP Seminar Room showcases Faculty's state of the art teaching facilities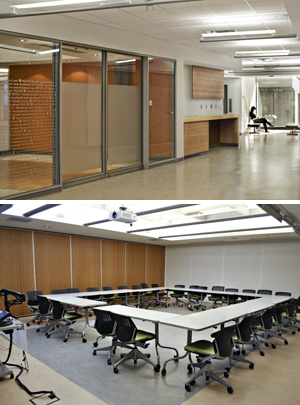 If walls could talk, the four sides of the newly inaugurated Osler, Hoskin & Harcourt LLP Seminar Room might have a lot to say.
The multimedia seminar space was completely overhauled as part of the renovations to the upper floors of Chancellor Day Hall in 2009. It features tables and chairs on rolling casters as well as a movable projector and blackboards, all designed to allow for adjustments based on the room's purpose on any given day. (And while these walls don't talk, the side wall does move, making it possible for the room to be joined to its neighbor to form a large lecture space.)
This month alone, the room has played host to student group meetings, the proceedings of an international conference on religion and multiculturalism, regular classes, a packed public lecture and a moot court practice in which three mock judges presided over the cross-examination of a criminal case involving the stabbing of a bouncer at a bar.
The room was funded by a $300,000 gift from the firm, part of which was also earmarked for the Osler, Hoskin & Harcourt Business Law Fund.
Robert Yalden, one of the firm's partners who also teaches business law at McGill and sits on the Faculty Advisory Board, spoke at the inauguration, emphasizing the importance of investing in legal education while Dean Daniel Jutras thanked those in attendance, many of whom were once students of the Faculty themselves, for contributing to the gift.
"We are very grateful to Osler, Hoskin & Harcourt for its support of the Faculty's pursuit of innovative approaches to teaching," said Dean Jutras, noting that a flexible room of this nature provides an ideal backdrop for invigorating classroom dynamics.
The seminar room is also part of the student-oriented third floor of Chancellor Day Hall: the entire floor is completely devoted to student space and houses all three student-run law journals, a multi-purpose meeting room, as well as the graduate students' lounge.