March 14 marks McGill24, the University's third annual day of giving. Last year, the entire McGill community of alumni, parents, friends, faculty and staff raised nearly $1.4 million in just 24 hours. This year, students and alumni have stepped forward to challenge the community to join them in helping advance key priorities for the Faculty.
Students commit to making the legal profession healthier
"Upon joining the Faculty," Healthy Legal Minds cofounder Shannon Snow remembers, "I saw a lot of my peers suffering—not having the tools to deal with the challenging experience of law studies. Law studies are challenging—but they shouldn't be harmful." This gave her the impetus to build Healthy Legal Minds, an organization of law students and jurists advocating for solutions to mental health issues at the Faculty and in the legal profession. In 2016–2017, a third-party survey commissioned by the collective revealed that two thirds of the student body declared having experienced some form of psychological health challenge in the course of their studies.
The cause resonated with the Law Student Association. This year, they committed $50,000 to student-led mental health initiatives at the Faculty. On the occasion of McGill24, they are challenging the McGill community to join them in making the legal profession healthier. As Healthy Legal Minds' codirector Talia Ralph puts it, the collective's mission reaches far beyond the walls of Chancellor Day Hall: "To serve our profession, we need to be able to provide the best possible service and skills. We can only do that if our minds and bodies are in top form."
Key priorities for the collective include building on the results of the student survey to bolster mental health initiatives that align with students' needs; and reviving the Peer2Peer program, which pairs students with trained peers when experiencing difficulty. The program would include mental health workshops by students for students; and trained student mentors who are on-call to help peers with mental health issues receive accommodations and find support.
Scholarship and bursaries opening doors and changing lives
Moses Gashirabake, BCL/LLB'17, was just five when his family escaped from Rwanda. A stellar student despite living as a stateless refugee, he eventually moved to Montreal to pursue his studies. "He had faced some adversity in his personal life, and he was really trying to make it work, to come to the Faculty of Law," remembers the then Assistant Dean of admissions Ali Martin-Mayer. "The more I was in contact with him, the more I realized that what was holding him back were financial constraints."
Thanks to a scholarship for academic merit and leadership, Moses accepted McGill's offer, and made a giant leap towards his dream of becoming a lawyer. Today, he is an award-winning youth leader, whose passion in law, public service, and entrepreneurship has been widely recognized.
Each year, the Faculty can recruit the best and the brightest students from all horizons and help them succeed through its bursaries and scholarship program. A believe strongly upheld at McGill is that no students should be forced to decline their offer of admission based on finances. In 2017, about 200 awards were given to BCL/LLB students, amounting to almost $200,000. With 41% of students not receiving any financial support from their families to pay for their studies*, scholarships and bursaries are critical in attracting and retaining top talent.
This year, for McGill24, alumnus Ariel Deckelbaum, BA'93, BCL'98, LLB'98, has challenged others to join him in supporting the Faculty of Law and will match any gift to scholarships and bursaries at the Faculty, up to a total of $100,000.
* Entering Class of 2017
Bringing Corporate Law to the Foreground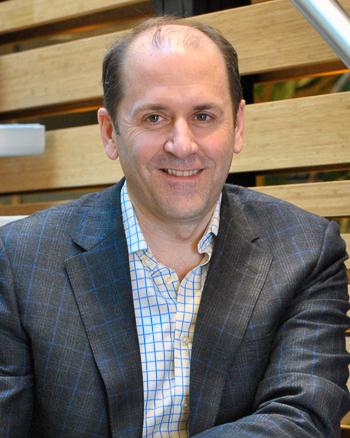 For Marc Barbeau, BCL'84, LLB'84, McGill24 is an exciting opportunity to help bring in critical expertise in corporate law at the Faculty. Currently, most of the Faculty's classes in business law are taught by practitioners hired as sessional lecturers.
"Practitioners such as Marc Barbeau who come in and teach do an admirable job at inspiring students and giving them invaluable insight into the reality of the profession," says Dean Robert Leckey. "Bringing in an accomplished scholar in corporate law would complement the expertise they bring to the Faculty, and enable us to advance research in this area by bringing to bear our distinctive approach to legal teaching and research."
Marc Barbeau has challenged the McGill Law community to join him in helping establish a Corporate Law Professorship. The professorship would play a central role in attracting applicants with business ambitions by bolstering teaching and research, and enhance programing through seminars, workshops, and visiting lecturers.
Join the challenge!
By giving on McGill24, your gift can have a greater impact. Every single gift counts, no matter what size. Taking part in this day of giving is a way of standing up and demonstrating your pride in your McGill education and in the powerful role it has in society. Find out more and help spread the word on mcgill24.ca