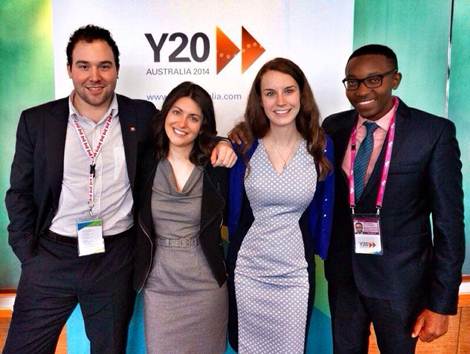 What did you do this summer?
In mid-July, I travelled to Sydney, Australia as part of a four-member Young Diplomats of Canada delegation to the 2014 Group of 20 (G20) / Youth 20 (Y20) Summit.
The Y20 Summit is part of G20 program and engages selected youth from the 20 major global economies to be directly involved in shaping global policies that affect them. The selection process is competitive and each of the G20 members is allocated up to 5 delegates to the annual Y20 Summit.
This year's identified policy topics were 1) Youth Unemployment 2) Global Citizenship and 3) Sustainable Development.
At the Summit which took place on the official G20 calendar (July 12-15), and after intense discussions, negotiations and voting, we presented a communiqué to the G20 leaders. Among the most important proposals stressed the need to support youth entrepreneurship and labour mobility among G20 countries.
What did you learn that was related to your studies in Law?
Over a period of 6 month prior to the July Summit, I was tasked with formulating, discussing, negotiating and tabling policies in the Global Citizenship on behalf of Canada. As the Y20 makes decisions by way of consensus, collaboration with the other 120 delegates was part of the process.
Persuasive, clear written and oral submissions were vital in drumming support from the other voting delegates and within sub-committees. These kinds of negotiation skills are useful in many areas of legal practice: legal advocacy, mooting, arbitration and mediation.
What did you learn that was unrelated to your studies in Law?
Learning that the G-20 was proposed by former Canadian Prime Minister Paul Martin as a forum for cooperation and consultation on matters pertaining to the international financial system. It was both a moment of pride and significance as it highlighted Canada's contribution to international economic cooperation and development.
What are you taking with you from your summer into the academic year?
The experience is directly related to my International Environmental Law and Policy course in the fall semester. The Summit highlighted the importance of cooperative discussions and negotiations in formulating sustainable international public policy.
Anything else you want to add?
The Y20 Summit was a great place for international youth dialogue. I was able to connect with new international friends and partners who are working on many entrepreneurial ventures in their countries and internationally.
Through the Y20 Young Entrepreneurs Alliance, I met a partner with whom we are creating an International NGO to encourage youth from developing countries to take up entrepreneurship and investment.
I would encourage students from the McGill Faculty of Law who are interested in international public policy, diplomacy and economic development to follow and apply to Young Diplomats of Canada's future missions: http://www.youngdiplomats.ca/.
Next year's Summit will take place in Turkey. The Young Diplomats of Canada also sends delegations to the G8, World Bank Meetings and other important international gatherings.