McGill Law welcomed this year's incoming students with a new approach to orientation.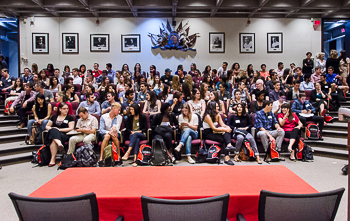 McGill Law's Orientation Week 2014 featured the usual jam-packed roster of activities – a tour of Montreal, Faculty-wide soccer and baseball games, a visit to the Court of Appeal, a picnic on Mont Royal, and the first Coffeehouse of the year. This year, students also took part in a one-day Integration program that gave them a glimpse of the academic approach into which they were about to embark.
A Faculty initiative involving all faculty members who teach a first-year course, Integration Day was led coordinated by Professor Helena Lamed and Dean Daniel Jutras, and grew out of a week of activities coordinated last year by Professor Shauna Van Praagh. The day was structured to give students the opportunity to meet their professors, meet each other, and spend a day working on a specific case study.
This year, the curriculum focused on the Lac-Mégantic incident of July 6, 2013, when a freight train carrying crude oil derailed in the town of Lac-Mégantic and the resulting fire killed 42 people and destroyed half of the town's downtown area. Students worked in small groups with the guidance of a professor to identify legal issues such as those of civil liability, environmental law, criminal law, and ethics, arising from the tragedy, and then listened to short, 30-minute lectures on these different topics.
The day closed with a plenary entitled, "Everything you have always wanted to know about law but were afraid to ask," during which a panel of professors – Lara Khoury, Daniel Weinstock, Colleen Sheppard, René Provost, and Robert Leckey – answered questions about everything from transsystemic study to a tongue-in-cheek question about the pictures on the walls of the Moot Court.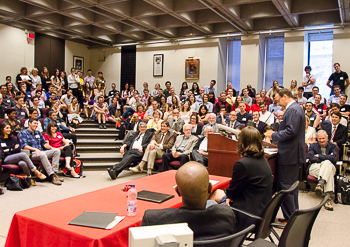 Professor René Provost explained that the Faculty's trademark blending of common and civil law in French and English languages of instruction paved the way for a different conception of the law.
When the Faculty combined the two legal traditions in classroom material in 1998, "the change was night and day," Provost said. "Students started asking more sophisticated questions about the law and transferring the process of learning itself to analysis of the law."
Colleen Sheppard, who teaches comparative constitutional law and is also the Director of the Centre for Human Rights and Legal Pluralism, expressed a similar sentiment: "The Lac-Mégantic example [that has been used throughout Integration Day] shows that whether it is civil liability, constitutional, public, private or international law, life does not come in legal categories."
Responding to a question about the historic photos on the walls of the Moot Court, Sheppard also exhorted students to take a moment to think about both the past and the future before embarking on the year ahead.
"It is very important to look at what is on the walls around us; they are predominantly photos of senior white men. This tradition, history and symbols are what we think of as law," she said. "Those of us who are here are recreating the tradition into what we want it to be, and you also, will recreate the tradition into what you want it to be."
This year's McGill Law entering class comprises 186 students. Impressive in their achievements as always, the incoming students include 27 from CEGEP, with an average R-score of 34.17, 31 students with graduate degrees, and an 85 percent academic average for those coming from undergraduate programs.
"Our students attended 43 universities and colleges for their undergraduate studies, including 18 international and US institutions," said Assistant Dean of Admissions and recruitment Ali Martin-Mayer, adding that the Faculty saw a significant increase in acceptances of offers this year, with "the highest registrations-to-offers ratio in at least 20 years."
In her welcome speech to the entering class, Martin-Mayer shared a personal anecdote of how, during her time as a student at the Faculty, the late Professor Rod Macdonald, a model of unshakable integrity, empowered her in small and powerful ways to stand up to do what was right, always. She commented afterwards that she chose the topic of Rod Macdonald and integrity on purpose this year: "If I can help one more generation of new students benefit from the wisdom and strength that Rod imparted on all of us, we would all be better for it."
Orientation Week closed with a keynote speech by Supreme Court Justice Clément Gascon, organized by the Law Students Association, as well as the annual Welcome Ball. Read more about Justice Gascon's speech.