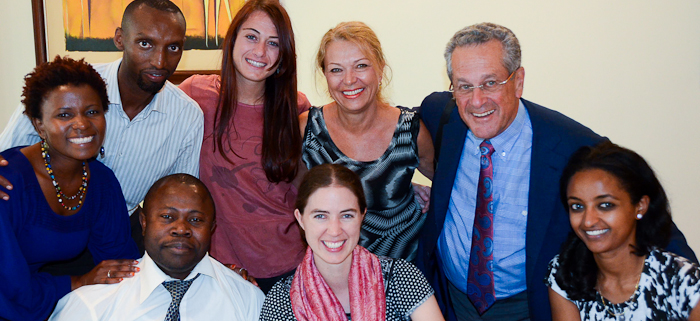 Penny and Gordon Echenberg (upper right) with some of the Echenberg Fellows in Kigali.
With generous support from the Echenberg Family Foundation, the Faculty of Law hosted two conferences on human rights in 2007 and 2010. Each conference convened a group of young leaders working in human rights around the world, creating amongst them a network of Echenberg Fellows, who meet periodically and also exchange ideas via a collaborative blog.
Between October 9 and 11, six fellows working or living in Africa gathered in Kigali, Rwanda, for a two-day meeting on human rights and governance issues. The visit included meeting with the First Lady of Rwanda and the Inspector General of the Supreme Court of Rwanda.
Focus online presents excerpts of their reflections on the meeting.
From the moment of her arrival in Kigali, Mekdes Mezgebu was struck by both the city's beauty and by remembrance of the genocide of 1994.
"It's impossible to escape the signs and scars of the genocide that devastated the country 17 years ago," wrote Mezgebu, a program manager for the United Nations Development Program in Ethiopia. "Flying into Kigali airport, one couldn't help but think that the same tarmac helped spark the genocide in 1994, when the plane carrying the Rwandan and Burundian presidents was shot down as it was preparing to land."
"The cleanness of the city, its greenery and its orderly structure makes it hard to believe that this is a country where hundreds of thousands of people perished in a mere three months, streets and streams filled with bodies of women and children… Your knowledge of a terrible past is mixed with the reality of a calmer present."
The fellows, all six of whom were former participants in the Echenberg Conferences on Human Rights at McGill, spent much of the first day discussing issues of governance in Africa.
For Salma Mohammed, of Ghana, these discussions prompted her to think about how Africa is perceived, both by Africans and by the international community.
"One of my Professors used to tell us that wherever we go, if asked where we come from, we should proudly respond from Africa, and that we are just born on a piece of land called perhaps Ghana, Liberia, Uganda etc," she wrote.
Her conversations with the fellows brought about the realization that, although this is a worthy response, "it feeds and maintains the perception that the African continent is a big block of land with the same problems, situations, experience, etc: which is not necessarily the case. Yes, we have similar situations but different levels of developments, governance, education, health unique identities within countries and even communities etc."
The first day's activities concluded with a session with guest speaker Regis Rukundakuvuga, a justice of the High Court and Inspector General of Courts in the Supreme Court of Rwanda.
The meeting's focus on good governance and accountability made Clement Phebe to reflect on a UN Mapping Report published the year prior. This report documented hundreds of violations of human rights in the Democratic Republic of Congo, where Phebe is based as a legal adviser at the Africa Programme of the International Commission of Jurists.


"I am dismayed at the fact that the striking and much applauded report – which comprehensively documents over 600 violent incidents that claimed lives of millions of human beings – seems to be failing its own purpose," he wrote, adding that there is a pressing need to hold perpetrators of such crimes accountable so as to break "the cycle of impunity, which has erected itself as one of the root causes of ongoing and never-ending atrocities witnessed on the territory of the Democratic Republic of Congo and the Great Lakes Region."
Day Two of the meeting included a roundtable with Rwandan First Lady Janet Kagame and gave Ugandan journalist and Echenberg fellow Rosebell Kagumire the opportunity to ask the First Lady about her views on corruption:
"Your organization, Imbuto, is involved in many activities like girl child education and promoting youth education through scholarships," Kagumire said. "Many times in my country, such scholarships have been shrouded with corruption and sometimes we don't know who really benefits. How do you shield your organisation and your office work from corruption?"



Kagame replied that public perception forms an important part in the anti-corruption measures. "Some people have not tested the dividends of fighting corruption; they haven't had the benefits of a country that doesn't tolerate corruption so they don't have the agenda to see it end," she said. " You must start with the top leadership. We also have no impunity on corruption and once you transform the police into a force which works for the community then people get confident and it becomes easy to fight corruption."
NGO-coordinator Illaria Allegrozzi emerged from the session with Ms. Kagumire with broad questions about the meaning of leadership, especially as she worked to encourage her colleagues in the DRC to assume greater roles of leadership.
"I remember when I arrived at the first (2007) Echenberg conference on genocide prevention as a 'young leader," she said. "It was the first time in my life someone called me a leader. I had never thought I would be able to exercise any kind of leadership…"
"I don't know whether I am a leader or not, and somehow I feel uncomfortable when people call me so; but I am convinced that, through leadership, advocacy and interaction, I can contribute to improve human rights for some people and bring about a change…" she continued. "In the Democratic Republic of Congo, I encourage the people I am working with, particularly human rights defenders, to see themselves as leaders, to stand in their vision as agents for social change and to break through the many barriers to securing justice for all."
The second day's focus on human rights and post-conflict rebuilding left Salma Mohammed with similar questions about how to secure justice for all.
"So many benefits and good have come out of the human rights movement, not just for Africa and Africans but for the whole world, that sometimes one is tempted to accept it as a packaged deal and not really question any aspects of it that might not necessarily express one's interpretation of human rights," she wrote.
"From experience, I know explaining the concept of dignity, quality and rights to a hungry person is not easy. Good or bad we have to start thinking of ways that we as Africans have to be open but strong enough to say, 'This isn't our interpretation of human rights; this hasn't and would not work;' otherwise we might just be copying and not actually impacting the concept of human rights as it truly means."
You can read the fellows' reflections in their entirety on their blog: http://blogs.mcgill.ca/humanrightsfellows.