The Faculty's partnership with Shantou University Law School in Guangdong province in China grew again in 2014.
For two weeks this May, ten Law students from McGill travelled to China to take part in a summer law program with ten students from Shantou University. The program, funded by the Li Ka Shing Foundation, alternates between Canada and China every year, seeks to help students from both countries better understand each other's society, politics and law, with an increasingly globalized economy in mind. This year's program, co-taught by Véronique Bélanger and Nandini Ramanujam from McGill and a team of Shantou faculty headed by Dean Michael Palmer, had a special focus on disability and the law.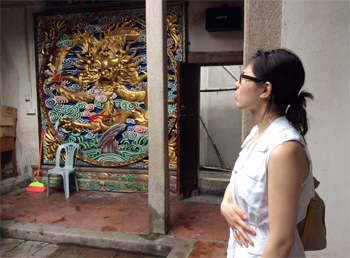 Here, three students recount their experiences:
"I joined the trip with a background in East Asian Studies and a strong interest in how the Chinese interact with their legal and political systems," explains second-year student Katarina Daniels. "This trip not only gave me the opportunity to learn about the influence of Chinese culture on legal institutions, but actually brought me right into the courthouse (on several occasions) to witness Chinese legal culture live in action."
Classes took place in English and included sessions on Canadian and Chinese culture, society and law. Academic learning was balanced out by site visits to courts of various levels, law firms, Disabled Persons Associations and NGOs in Shantou, Shenzhen and Xiamen.
"The combination of classroom lectures, discussions and presentations, meetings with legal professionals, and visits to legal institutions and surrounding cities, allowed me to begin to understand the legal system, traditions, and contemporary trends of a complex and captivating country," says Colin Bourrier.
"Our Shantou peers acted as wonderful translators for these sessions, but the best part was talking to them after the hearings to find out their opinions about the Chinese legal institutions, access to justice, their legal education, and Chinese culture generally," adds Daniels.
The program invites applications from students who demonstrate an interest in Asian studies such as James McCarthy, who went on a one-year exchange to Hong Kong during his undergraduate degree.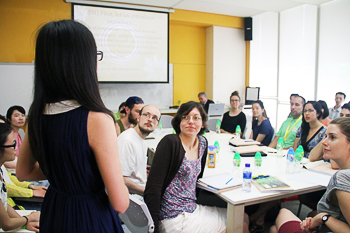 "The Shantou-McGill program provided me with [the opportunity to] to learn the legal side of China from Chinese professors, hands-on at various courts and other organizations, and through conversing with my Chinese peers," he says. "The result, for me, is a more developed knowledge of China's legal order, and a renewed interest in continuing to study China. By and large, the program stands out for me as the highlight of my law school experience thus far."
Recently, the Faculty also announced a new semester abroad program to Shantou University Law School. The program, funded by the Li Ka Shing (Canada) Foundation, will allow two McGill Law students to spend the spring semester in Shantou. The Foundation is covering two financial awards that will provide award winners with the opportunity to travel to Beijing and Shanghai during their semester abroad as well.