Meet some of the post-doctoral researchers at the Faculty: Armel Brice Adanhounme, Catherine Doldirina, Mélanie Mader, Yaw Nyampong, & Caroline Cassagnabère.
Spearheading discussions about South Park and The Simpsons and about the protected status of champagne and caviar, the Faculty's nine post-doctoral fellows bring new ideas to research and teaching.
If a conversation about the link between law and morality seems too dauntingly theoretical, try taking a page from the members of the Justice and Popular Culture reading group: talk about South Park instead.
In fact, observes Luis Gómez Romero, a post-doctoral student at the Faculty who leads the reading group, "popular culture is one of our most basic sources for discussing justice and the politics of law."
To encourage examination of this link, Romero has compiled a list of foundational theoretical readings alongside an eclectic selection of movies and television episodes, ranging from South Park and The Simpsons to the 1928 Walt Disney short film, 'Plane Crazy.' His reading group meets twice a month and engages in lively debates about whether Chef from South Park is an intellectual property visionary and about the analytical relevance of legal positivism.
Romero is one of a record nine post-doctoral fellows affiliated with the Faculty of Law since the beginning of 2011. They arrived from all parts of the globe – Benin, Italy, Mexico as well as from across Canada – for a welcome reception at Thomson House in September.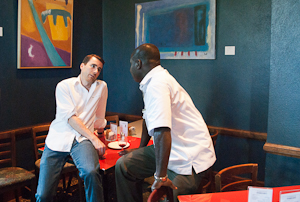 The fellows, usually scholars who have recently completed their doctoral studies and are seeking an opportunity to focus on research for a year or two, are a testament to the vibrant research life of the Faculty, noted Associate Dean of Research Desmond Manderson.
"Working on their research, post-docs can seem isolated, but they are an important resource to the Faculty and to each other," he said, pointing out that the fellows also teach courses, assist with the submission of research grant applications and organize conferences.
Also noteworthy this year is the presence of three Banting award recipients at the Faculty of Law. Newly inaugurated as part of a federal research program in 2011, the Banting fellowships provide elite post-doctoral researchers from Canada and around the world with $70,000 per year for two years in support of their research and the Faculty of being the institution with the most fellows in 2011.
Matteo Ferrari, a Marie Curie research fellow working on the notion of terroir and the idea of protection for foodstuffs by geographical indication (for example, champagne from Champagne), is teaching the Faculty's first course in food law and also helped organize the Centre for Intellectual Property's IP Week in September.
His course introduces students to the emerging branch of legal study encompassing subjects such as food security, food patents and the regulation of organic food, genetically modified organisms and alcohol.
Ferrari previously taught the course in his native Italy and is fascinated by the cultural differences embedded in ideas about food. "Our conceptions of food reflect the sociological and cultural environments in which we live, and hearing from students from another context than the one I come from is a very interesting experience."
Adds Manderson: "Post-doctoral students are often in the most active phase of their research career: they've often just come from a doctorate, they've got a whole lot of ideas, and it's a very fertile time for them."
"To be able to have them here doing their own work but also talking to other professors and students, helping others with their work, contributes significantly to the Faculty and to the University as a whole."
Meet the new post-doctoral fellows at the Faculty of Law
Armel Brice Adanhounme – Banting Fellow, working at the Labour Law and Development Research Laboratory)
Caroline Cassagnabère – Fellowship from the Fonds de recherche du Québec – Societé et culture, at the Quebec Research Centre for Private and Comparative Law
Catherine Doldirina – Arsenault Fellow at the Institute of Air and Space Law
Matteo Ferrari – Marie Curie Fellow, at the Center for Intellectual Property and Policy)
Mélanie Mader – Resident fellow with the Health Law Working Group
Yaw Nyampong – Arsenault Fellow at the Institute of Air and Space Law
Luis Gómez Romero – Resident fellow at the Institute for the Public Life or Art and Ideas [IPLAI])
Mark Shepheard – Banting Fellow, working with Professor Jaye Ellis
Jean-Baptiste Jeangène Vilmer – Banting Fellow, working within the Centre for Human Rights and Legal Pluralism
Read more about McGill's success with the Banting Fellowships in the McGill Reporter.
Photos: Lysanne Larose, Victoria Leenders-Cheng.