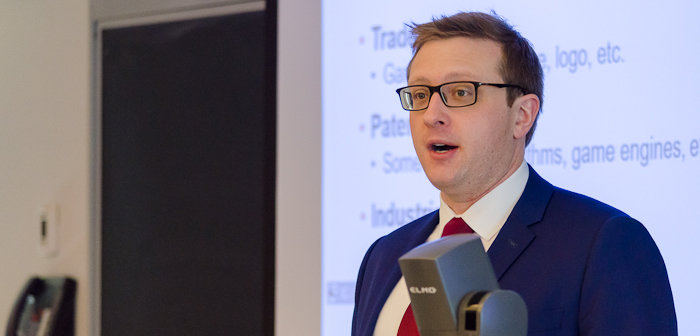 Michael Shortt, BCL/LLB'13, was still dreaming of becoming G.I. Joe when his parents predicted that he would follow the footsteps of his grandfather and become a lawyer. "I was a very argumentative child," he confessed. It took him somewhat longer to reach the same conclusion. But one day, when Professor Pierre-Emmanuel Moyse drew two penguins on a blackboard, Shortt knew he had found his calling.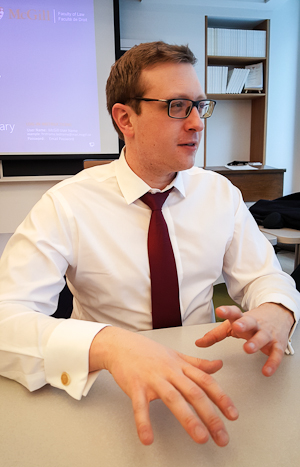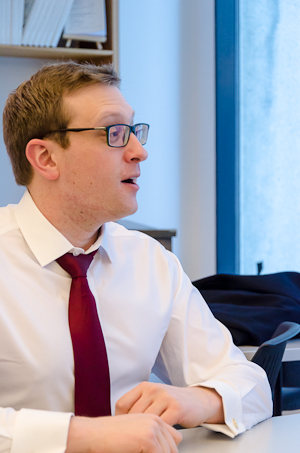 Focus met with Michael after a recent talk he gave at the Faculty. Proudly sporting McGill cufflinks, the litigator had no defence against our suspicion that he bleeds McGill red. After first setting foot on McGill's lower campus in 2004 to start a Bachelor in Political Science and Economics, Michael Shortt never really left. He received the Guy Drummond fellowship after completing his undergraduate degree and went on to pursue a master's in Political Science, which afforded him the opportunity to go on a year's exchange at Sciences Po, Paris. That is where brushed up on his French and met several people who would eventually become his McGill Law classmates. "I was surrounded by people who were motivated, passionate and intelligent," he recalls. "I thought 'If that's the kind of person that goes to McGill Law, then this is where I want to be.'"
Once he set foot in Chancellor Day Hall, he seized every opportunity to get involved. "I completed the program in four years, so doing 'everything' was easier to pull off when compared to aiming for a three-year degree," he explains. Over the course of his studies, he sat on the board of two law journals, took part in Skit Nite, competed (and won) in the Pierre-Basile-Mignault civil law moot, served as a Research Assistant for the Honourable Louise Otis, and completed the clerkship course at the Quebec Superior Court—in addition to authoring humorous and exhaustive course summaries that have become a part of PubDocs lore. Six years after his graduation, he remains a familiar face to many as a Mignault moot coach, guest speaker, and occasional Quid Novi alumnus correspondent.
While he might have exceeded the allowed number of non-course credits, Shortt was also very invested within the classroom. As one might expect from the author of The Common Law of Ghosts (PDF), the interests of this self-proclaimed "law nerd" are far ranging, from criminal law and evidence to contracts drafting. But in Professor Moyse's Intellectual Property (IP) class, he noticed a pattern was emerging: "When it came to IP, I found that I was really interested not only by isolated cases, but by every single one of them." The two penguins mentioned above were part of a trademark case in which the trademark owner had registered a "skinny penguin" design, but was using a "chubby penguin" design on its products. "The trial judge had to decide a really difficult philosophical question – how different can two things be, yet fundamentally still be the same thing? IP is full of problems like that." A course aux stages later, he accepted an offer from Fasken Martineau, and hasn't looked back since.
Videogames and IP
Only a few years out of law school, Shortt is the co-founder of Fasken Martineau's videogame group. "Videogames had been a personal interest of mine. After I did a lot of work for one videogame client, I noticed there was a gap in the market. The videogame industry in Montreal was growing and well-connected, but the Internet presence of law firms in that segment was basically a wasteland." He pitched the idea of a specialized committee and got his firm's backing. "It speaks to the agility of Fasken Martineau," Shortt highlighted. They were able to quickly seize the Search Engine Optimization opportunity that has now earned them one of the top spots in Google searches, and Michael now chairs the group's meetings, alongside several firm partners.
The sector remains ripe with opportunities for IP lawyers, Shortt highlights. "Budgets of videogames are now multiple times what the budget of a Hollywood movie would be. The number of people and time involved is greater, even though these productions might not be as present in our mindsets." Piracy is still endemic, but less of a front-burner issue, he explains, as publishers have internalized the Internet motto that companies today must do "better than free"; just as music companies like Spotify have managed to make their services easier and more attractive than downloading pirated music at no cost on questionable websites, games have become very affordable and easier to access than ever. But in an ecosystem of increasing complexity that involves small studios, employees, freelancers, third-party licensors and large publishers, locking down airtight intellectual property rights has become a challenging proposition.
AI v Copyright Act
While the Copyright Act of Canada has remained reasonably workable for the videogame industry in the digital age, it is maladapted when it comes to the emerging field of Artificial Intelligence (AI), Shortt tells us about his other area of specialty. In recent years, he has worked with a number of Montreal's most innovative companies, from startups to world leaders like Element AI. "It will be crucial for Canada to adopt a very broad data mining exception to enable companies to build their products," he argues. A lot of AI systems learn by ingesting (or "mining") colossal amounts of data; for instance, an AI algorithm might learn to reproduce natural language by being fed millions of social media posts. These practices are raising complex copyright questions and, Shortt suggests, some jurisdictions are harming their AI industries by adopting strict legislation that limits access to information. While Canada might not beat the United States, China or Europe on quantitative factors that scale up, like investments or workforce, he advocates that it could take a leading qualitative position on the world stage by adopting favourable and flexible data mining laws.
Law as a human profession
Later this month, Michael Shortt will speak in front of the Supreme Court of Canada (SCC) as an intervener representing McGill's Centre for Intellectual Property Policy (CIPP) and University of Toronto Professor Ariel Katz in Keatley Surveying Ltd v Teranet Inc. "Working with your former law professors is a heck of a feeling, and having Professors Moyse and Katz as 'clients' really meant having them as co-counsel. Our factum is so much stronger for having several diverse perspectives go into it."
This will be Michael's third trip to the nation's highest court. In 2015, he was part of the team which defended CBC from onerous copyright royalties in CBC v SODRAC (a case in which the CIPP was also an intervener). Just last year, he wrote the SCC factum and argued half the case in the language rights appeal Mazraani v Industrial Alliance Insurance and Financial Services Inc—a twenty-minute performance that entailed countless hours of preparation. "We have a system where everything is done in writing, but its pinnacle remains a human discussion between lawyers and judges," he notes with a smile. "This is still very much a human profession."
With McGill24 on the horizon, we concluded by asking a person who has done it all to share his fondest memory of his McGill days. The Pierre-Basile-Mignault moot was the highlight of his studies, he confides, and it taught him lasting lessons about advocacy that have served him well ever since. And Shortt has one final claim to fame: having made Mignault jurisprudence. "My team and I found a flaw in the way the problem was worded, and as a result we challenged the jurisdiction of the trial court. Surely enough, they banned jurisdictional arguments the next year!"
Interview: Karell Michaud
Photos: Lysanne Larose