In July, the Faculty of Law welcomed twenty-one high school seniors and CEGEP students. Over a two-week full-time program, they worked on a personal project, took part in workshops with seasoned law practitioners, and went on field trips to law firms and Montreal courts. Hired as the Faculty of Law's Black student coordinators, Ommu-Kulsoom J. Abdul-Rahman and Chloe Kemeni designed and spearheaded this initiative, in consultation with the Black Law Students' Association of McGill. Funding was provided by the Office of the Provost and Vice-Principal (Academic), under the auspices of McGill's Action Plan to Address Anti-Black Racism.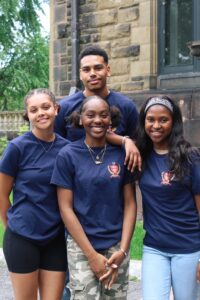 How was the idea for the program born?
Ommu-Kulsoom: When I worked in a student recruitment role at McGill, I heard of an American school that ran summer programs for different identity groups like Black African Americans, Latinx Americans, and Indigenous students. Their goal was to give them a chance to see themselves pursuing higher education and show how they would be included and accepted within their space. I found that meaningful.
After starting at the Faculty and seeing the new commitments the University had made to Black students, I made a first draft of the program and contacted Chloe to share the idea. [In a meeting with the Black Law Students' Association of McGill,] we presented the project to Dean Leckey and to Brittany Williams, who was acting assistant dean (admissions) at the time. They liked the idea and approved us running a pilot.
What were your intentions and goals for this program stepping into this?
Ommu-Kulsoom: The vision was to create a pathway to higher education in law school that was much more inclusive and mindful of the youth and their background. We wanted to make this an environment where they would feel comfortable and thrive in.
For Black students, McGill can seem very isolating since it is a predominantly white institution. We wanted to show them that it was a space where they could build community. There is strength in the way Black students at McGill congregate and support each other. We wanted to give program participants a taste of it, so they could see themselves applying to McGill and pursuing this as an option, rather than feel it is less attainable than other schools.
How did the selection process happen?
Ommu-Kulsoom: Kimberley Lee-Louis [then assistant dean (inclusion – Black and Indigenous flourishing)] was able to help us get the word out and promote it. She was a great sounding board, because she was familiar with the youth we were trying to target. We were mindful of ensuring that the students we recruited were representative of various backgrounds. Some of us have more access to certain opportunities than others and are more affluent, coming from privileged backgrounds. In that sense, we wanted to make sure that a variety of youth were being led into this program as well.
Chloe: A lot of students were saying that it was through word of mouth that they were able to get information, from their parents or from teachers for instance. So now that the students have gone through it and had a positive experience, if another edition of the program were held, I can imagine that we would have even more applicants.
What were the highlights of the program for you?
Chloe: For me, it was at the gala. We saw two students taking pictures together and, when I asked if they knew each other before, they replied that they had just met during the program. I am proud of many things we did, but seeing those friendships build over time was priceless. Some folks who did not even know each other were carpooling in together from the second or third day! I think it's beautiful and essential to be able to say that you have built friendships from this. And if they both want to get into a program down the line, they now have someone they can rely on. The community is so small it's quite easy to end up walking through most stages of the law experience together. It's always nice to have those support systems.
Ommu-Kulsoom: Another highlight was when elders in our community would come up to us and speak about how meaningful the program was to them. They felt that if they had this opportunity when they were younger, their path could have been different. Back in their days, programs like these were not an option, so they ended up in a career path more closely aligned to what a Black person was expected to do at the time. Their comments made us realize how meaningful the program was, not only to the students, but to older folks in our community who saw its value and who took it upon themselves to get the word out so their children or grandchildren could apply.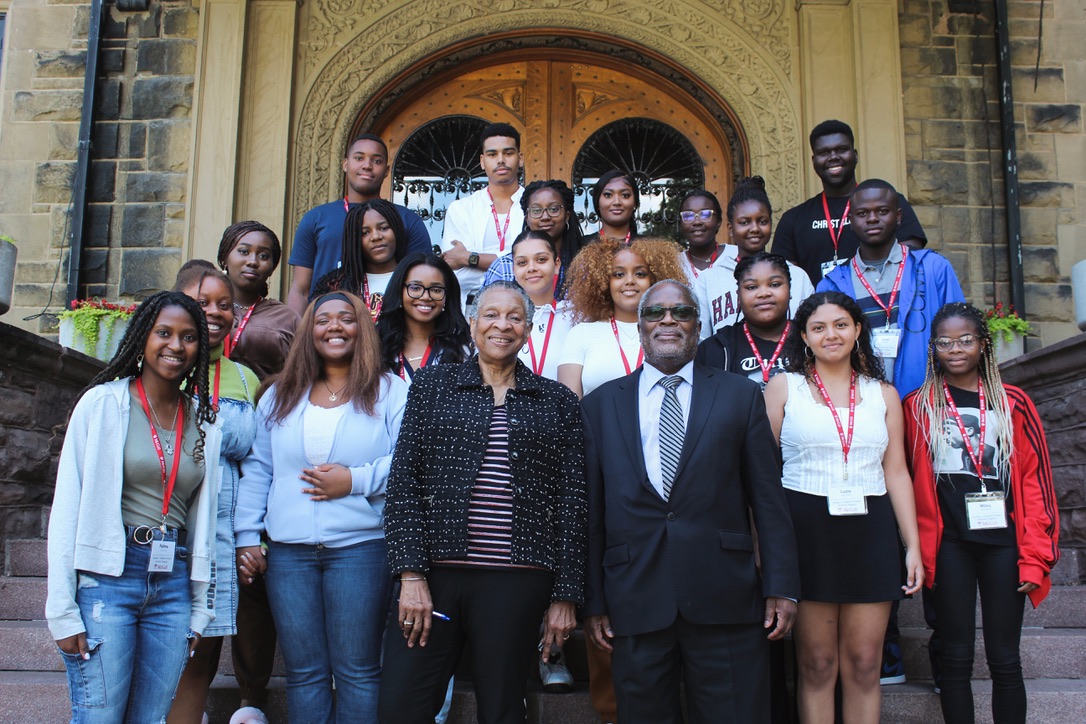 ---

Cet article est tiré de la nouvelle édition de Focus Law/Droit, le magazine de la communauté diplômée de la Faculté de droit.
Our latest issue features spotlights on law alumni with outstanding career paths; the return of in-person activities at Chancellor-Day Hall (including visits from our alumni sitting on the Supreme Court of Canada); an infographic celebrating 20 years of world-class legal education through our integrated BCL/JD program; and the latest news from our students and professors. Read it now, and send us your news for our next issue!